515 Fatalities: The carnage has been severe on Western Arizona highways
Originally Published: January 27, 2017 6:04 a.m.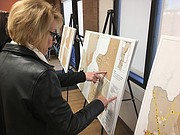 Traffic fatalities in Mohave and La Paz counties are climbing at 10 percent to 15 percent a year, with the number jumping more than 50 percent in 2015, according to a study aimed at identifying trouble spots in the two counties.
Mike Blankenship, professional engineer for Amec Foster Wheeler, presented crash data showing 515 traffic fatalities in the past 10 years during a transportation safety workshop conducted Thursday by Western Arizona Council of Governments.
Of those, 40 were on Highway 68 between Golden Valley and Bullhead City, and 62 were on Interstate 40. The city of Kingman reported 31 fatal accidents, along with 149 incapacitating injuries.
About 95 percent of crashes are caused by human factors, Blankenship noted.
"We recognize that we have bad drivers and people who do stupid things while driving, especially now with phones," he told about a dozen people attending the workshop. "We can try to do things like put up guardrails that are forgiving."
The goal of the workshop is to save lives and reduce serious injuries, he said. The focus was on safety performance findings, behaviors and crash data, safety vision and project goals.
Ultimately, WACOG wants to establish regional strategies and safety projects and coordinate with the Arizona Strategic Safety Plan, said Justin Hembree, transportation program manager for WACOG.
"We're going to pick the No. 1 project in each area," he said. "We look at hot spots on the crash maps and identify safety projects to address the issue. It could be guardrails or rumble strips. It'll be spot-specific for that location and also systemic projects that would be citywide and countywide."
Frank Marbury, a traffic engineer with the city of Kingman, said the city is looking at left-turn arrows at the intersections of Airway Avenue and Beverly Drive turning onto Harrison Street.
The Beverly intersection at Stockton Hill Road is another problem.
"That whole corridor of Stockton Hill is always something we look at," Marbury said. "There's a lot of things we can do. Maybe a third lane. We're trying to do something at Beverly."
Blankenship noted that the highest number of fatalities occurred in the first three years of the 10-year study, with 72 in 2006, 65 in 2007 and 63 in 2008. Fatalities dropped off after that, bottoming out at 34 in 2014, then bouncing back to 54 in 2015.
Why is that? A few theories were put forth by workshop participants.
Lower gas prices means more people are on the road. More people are distracted while driving, not only with their cell phones, but also with their car technology. Perhaps the population is aging, resulting in lower response times, poor vision and hearing.Single-vehicle accidents accounted for 57 percent of fatalities, and lane departures were the most common cause (61 percent) in the WACOG region, Blankenship said.
More like this story
SUBMIT FEEDBACK
Click Below to: