Rector defense expecting to use 'mental health'
BHC man accused in Bella Grogan-Cannella sexual assault, murder case
Originally Published: January 29, 2017 6:03 a.m.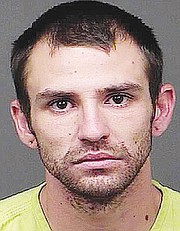 KINGMAN – Defense attorneys are attempting to contact some 700 witnesses and gather mental health records to spare accused murderer Justin James Rector from death row, should he be convicted.
During a status conference Friday, Mohave County Superior Court Judge Lee Jantzen said he's not vacating the May 1 trial date for Rector, but he's starting to think it's going to be delayed again. The trial was originally scheduled for October.
Jantzen set the next status hearing for 1:30 p.m. March 24.
Rector, 28, is charged with first-degree murder, kidnapping, child abuse and abandonment of a dead body in the Sept. 2, 2014, death of Isabella "Bella" Grogan-Canella, a gruesome crime that garnered regional and national attention.
He allegedly buried her body in a shallow desert grave about a quarter-mile from her home.
Jantzen said he learned about quite an extensive amount of mitigation yet to be completed by the defense during an update of the case.
"I'm satisfied that a lot of work has been done in that regard and I at least feel positive that things are moving forward," he said.
Defense attorney Gerald Gavin said his team is trying to track down as many law enforcement witnesses as it can. More problematic is locating civilian witnesses, which could take a while.
He's also trying to find mental health experts who can do multiple tests on the defendant.
"There's going to be mental health issues brought out," Gavin told the judge. "We anticipate mental health as one of our defenses."
Mohave County deputy attorney Greg McPhillips said he's concerned about "having our eyes on the ball" with the mental health records.
Jantzen agreed, saying, "We need to get to the end line of where you're at with the mental health records."
Rector was a friend of the girl's mother, Tania Ann Grogan, and was staying at the family home in Bullhead City when the crime occurred. Police said Bella was last seen at about 11:30 p.m. that night by her older sister, who was going to the bathroom.
Bella's mother and stepfather were not home at the time, and the children were being watched by their grandmother. The parents were later arrested on drug charges, and the mother remains in prison after pleading guilty to the Sale of Dangerous Drug and being sentenced to five years with the Arizona Department of Corrections in September 2015.
Police questioned Rector the next day about the girl's disappearance and found his alibi to false. He reportedly stole a new set of clothes from Walmart and ditched his old clothes. FBI investigators linked shoe prints at the grave site to Rector's shoes.
Mohave County Medical Examiner's office first reported there was no physical evidence the girl had been sexually assaulted, but it was later revealed that her hymen was missing and there were hemorrhages in her vaginal wall.
Prosecutors are seeking the death penalty against Rector. Jantzen ruled there were "aggravating circumstances," including the girl's age and cruelty of the crime, to support the state's position.
More like this story
SUBMIT FEEDBACK
Click Below to: