Kingman robotics team ready to compete
FIRST Team 60 Robot is on the Clock
By
Aaron Ricca
|
ARicca2
Originally Published: January 30, 2017 6:04 a.m.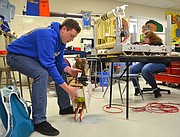 New robot, new team members, more cash.
Kingman High School's FIRST (For Inspiration and Recognition of Science and Technology) 'Bionic Bulldogs' Team 60 is among 62 national teams to receive a portion of $250,000 in grants from the Auburn Hills, Michigan-based FCA Foundation, the charitable arm of North American automaker Fiat Chrysler Automobiles (FCA) U.S. LLC.
Team 60 will get $4,725 that will be enable Kingman students to continue to participate in science, technology, engineering and math (STEM) building a robotics program.
"FCA actually came to us," said Kingman High School engineering and robotics teacher Jody Schanaman.
The Bionic Bulldogs bring together students in grades 7-12 from both Kingman Unified School District and Kingman Academy of Learning high schools and middle schools as well as the Kingman Blended Learning Center and home-schooled students.
The grant will help the team offset costs for registration fees, parts, materials and team apparel associated with competing in the FIRST Robotics Competition research program. At least $4,000 of the local grant will go to registration for the team's regional competition in Las Vegas, April 5-8. Registration fees for the first regional competition in Flagstaff March 8-11 is paid. The remaining $725 will go to purchase parts and materials for the new robot.
Jan. 7 was the official start of the 2017 design and build season. Under strict rules, limited resources, and an intense six-week time limit, students are challenged to raise money, build a team, hone teamwork skills, build, and program industrial-size robots to play a challenging game against competing teams.
The teams build two robots – one for practice and one for competition, and students in Schanaman's engineering class were drawing schematics and slowly piecing together this year's robot Thursday.
"The kids can't even touch the (competition) robot until the first regionals in Flagstaff," she said.
Corresponding with the theme of the yearly competitions, each year the team builds a new robot (and designs costumes) to perform a specific set of tasks. This year's theme for the 60,000 students competing worldwide is "Steamworks," inspired by steampunk music and according to Schanaman, the Japanese anime movie "Steamboy."
This will be the first time in 25 years that human involvement will be allowed on the playing field. There will be two teams – three schools per team – with six robots facing off on the indoor field. The robots will launch whiffle balls into a "boiler" and other robots deliver gears to human participants, who will fit them to spin rotors on an airship. Sound confusing? Check out the promotion video at https://www.youtube.com/watch?v=EMiNmJW7enI.

The Bionic Bulldogs do more than build a robot. They learn about machining, mechanics and wiring, as well as design, public relations, accounting (from fundraising), teamwork and camaraderie. The team will eventually name its creation.
Soupshot – last year's robot – got its name when Bionic Bulldog President John Lewis, a senior, was eating a bowl of soup when a team member gave the robot a command to launch a foam ball.
"The ball hit the cup and knocked it right out of my hand," Lewis said.
Schanaman, Kingman Academy Middle School science teacher Celeste Lucier and other teachers, parents and industrial trade experts – including a programing mentor and an electrical engineer – mentor the students.
"It's nice when we get more of the community involved," she said.
The team's operating costs run about $50,000 annually. The money comes from the school district, some from fundraising, and of course, the grant. A good portion goes towards aluminum stock and electronic components. There's also the registration and travel costs for competitions. There are 32 students involved in engineering and robotics classes and the club that builds the robot travel to regional competitions.
That investment can pay off in the end. Schanaman has been building a bridge between the schools and local industries, including Brackett Aircraft, Laron Incorporated and I-Corp Arizona, Inc., pointing students in the direction of the tech-related fields they've begun to master in school.
"Kids can get hired right of high school," Schanaman said.
One of those students, KHS freshman Serenity Shelby, is already searching for a way to put her technical skills to use. She said her mother has a painful bone condition in her hands. Shelby is fascinated by the 3-D printers available in the engineering classrooms. Those printers can make parts for the robot and possibly people.
"I want to find a way to design something for her (mother) to wear on her hand to reduce the pain," she said.
Schanaman and company are more than happy to get the extra push from the FCA Foundation.
"This gives more students the opportunity to get involved," she said. "Without it, some of them wouldn't be able to participate."
More like this story
SUBMIT FEEDBACK
Click Below to: