KFD, KPD and MCSO work with National Guard for a day of interoperability response
By
Aaron Ricca
|
ARicca2
Originally Published: July 2, 2017 6 a.m.
These are dangerous times we're living in, and someone has to watch our backs.
That was the general consensus of the agencies training on how to handle various emergencies and potential threats to public safety at Palo Christi School Wednesday.
Members of the Kingman fire and police departments and the Mohave County Sheriff's Department linked up with the Arizona National Guard's 91st Civil Support Team for a day of interoperability response exercises.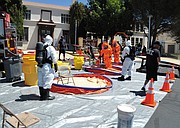 "This is the first time we've had this kind of training event to this capacity," said KFD Battalion Chief Chris Angermuller.
Kingman sits in the crosshairs of Interstate 40, the railroad and U.S. Highway 93 between Phoenix and Las Vegas. Those major traffic and commerce arteries lend to the possibility of hazardous material spills and, in the most extreme circumstances, major gridlock or refugee traffic in the event of a major man-made or natural disaster or terrorist attack.
Wednesday morning commuters may have noticed a convoy of unmarked blue trucks driving down city streets. That was the National Guard headed to the training site.
"We want to make sure we're integrated and work as one, well-staffed team," Angermuller said. "These guys are integral to these types of incidents."
The CST is a state-run National Guard unit that includes both Army and Air Force personnel. Roughly 20 full-time team members each have specialties in command, operations, logistics, communication, medical aid and decontamination, to name a few. Their mission is to support, assist and advise local agencies and to bridge the gap between state and federal agencies. They take their orders from the Arizona governor, not federal authorities.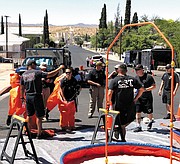 "We do not assume command of anything," said 91st CST 1st Sgt. Josh Steele, of the unit's responsibilities in the event of activation. "We'll facilitate getting a hold of FEMA and other federal agencies."
Wednesday's emergency scenario involved a mock-terror threat involving a disgruntled janitor who had made a batch of ricin and threatened to poison the school.
Kingman firemen and police followed and observed two CST first-line team members, in orange self-contained HAZMAT suits, through the halls and classrooms of Palo Christi as they took readings from floor to ceiling to detect harmful chemicals. Other KFD and KPD personnel monitored the exercise via radio from outside.
The training was as detailed as possible.
Empty HAZMAT suits were placed on the ground at various locations to simulate casualties, and the ricin scene was actually a cereal bowl of brown sugar surrounded by bottles of water, instructions from the internet on how to build homemade bombs and a terrorist-sponsored anti-American propaganda magazine. Any and all hazards were documented and monitored by an outside assessment team for future analysis and courses of action.
Future simulations could include a train derailment exercise and technical rescue operations.
The CST's past missions have included monitoring public safety and conducting hazard assessments at events such as the 2015 Super Bowl and yearly Fiesta Bowls in Glendale. They've also supported local authorities at incidents such as the 2002 Rodeo-Chediski Fire and in New Orleans during Hurricane Katrina.
"We like to get out where we can," said 91st CST commander Lt. Col. Scott Hier. "It all goes back to the way the world is today. There's always a need."

As of about noon, the CST first-line crew was going through a decontamination station (no water was used in order to preserve our limited supply) after the Ricin simulation and command teams from KFD, KPD and the CST were conducting an after-action review of the exercise.
Angermuller would like to see at least one yearly joint-training session from here on out.
"It's all about interoperability," he said. "We learn from them, they learn from us. We're making sure that if we do have a large-scale incident, we have the help we need."
More like this story
SUBMIT FEEDBACK
Click Below to: