Editorial: After a year, Barbie and Ken get another update

Originally Published: July 2, 2017 6:06 a.m.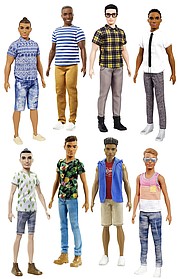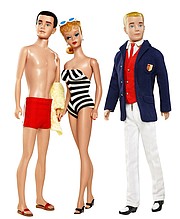 In February of 2016, one iconic body changed dramatically. I'm not talking about Caitlyn Jenner, but rather the busty, blue-eyed blonde known as Barbie.
The dolls are called "Barbie Fashionistas." Last year, Time Magazine said this line will "all be called Barbie, but it's the curvy one – with meat on her thighs and a protruding tummy and behind – that marks the most startling change to the most infamous body in the world."
This year, Barbie's male counterpart, Ken, also got a facelift. And body lift. And let's not even talk about that man bun.
Jokes aside, it's very inspiring to see Mattel release these new Ken dolls, along with another round of Barbie fashionistas. According to Mattel's website, there are 40 new dolls with seven different body types, 11 skin tones and 28 hairstyles, including cornrows and pastel blue locks. Of those 40 dolls, 15 are new Ken dolls that come in three different body types: broad, slim and original.
For a company that, for so long, only had one version of Barbie, these steps over the last few years are monumental.
This new business model is vastly important for young people, male and female. Despite popular belief, boys are affected by ridiculous beauty standards just as much as girls. From G.I. Joe to Captain America, they are just as targeted, and at risk, as girls for low self-esteem and body image.
Bodies come in all shapes, sizes, dimensions and colors, and Mattel is doing what it can to capture the new picture of society. Over the last year, Barbie has embraced diversity in body shape and ethnicity, but she has also embraced new careers, such as the Occupation of the year Barbie from 2016: a video game developer. This year there are over 40 different "career dolls" offered by Mattel. President, vice president, firefighter and skateboarder are some of the top-rated dolls on the site.
To me, that is really cool. Those weren't really options when I was a little girl. Sure, my imagination could have run wild and I could have dressed Barbie in a sweet pantsuit and called her "Madam President," but now girls don't have to think that far outside the box. Mattel is starting to normalize these career fields for women, which is amazing.
The positive effects of this change probably won't be immediate. Children may not even realize they are changing their attitudes. However, if Mattel can make the change, if it can risk changing its No. 1 doll in the world, in order to change the viewpoint of young girls, other corporations should follow suit. It isn't just about profits anymore; it is about taking responsibility and teaching young people that it is OK to be different.
Children should be empowered before they ever know what that means, and Barbie and Ken, simple dolls, have the ability to do that.
More like this story
SUBMIT FEEDBACK
Click Below to:
This Week's Circulars
To view money-saving ads
For as little as $3.49*