Meeting Under the Black Bridge: An undercover drinking spot for teens becomes the namesake for a Kingman favorite

By
Hayden Merrill
|
haydenmer
Originally Published: July 3, 2017 6:05 a.m.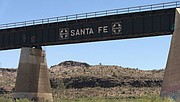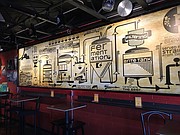 What do you do when you have an affinity for beer and some childhood memories tied to an old, rickety bridge? The only thing you can do, open a brewery.
Black Bridge Brewery has been around for only a few years, but it represents a Kingman tradition that has been around since the 1960s.
The infamous black bridge is an area just east of Beale Street that is known as a teen hangout spot. Under the bridge that allows trains passage over small gaps in the rock, teens have gathered for decades to socialize, have a bon fire and occasionally have an underage drink.
"We would go to the left of the bridge, where we could hide and not be seen," said the owner of Black Bridge Brewery, Tim Schritter. "It was the perfect hideaway."
Schritter's love for craft beers was not always present. He said he once was a "Keystone Light man," until one day, the father of his ex-girlfriend suggested Schritter help him brew a batch. From there, Schritter became hooked and used his knowledge of welding and fabrication to get his own brewing station going. He has brewed a lot of beer since.
"It takes a lot of experimentation," Schritter said. "You have to make a lot of bad beer before you can make some good beer."
At first, the brewing was just a hobby that Schritter shared with a few friends.
"I was told that nano-breweries were not profitable, that it would be hard to be successful in opening a business," Schritter said.
However, after some testing and financial planning, he realized that a brewery of his own could indeed be a success. The next step was to find the perfect beers that would make a profit.
Schritter said that although he wasn't legally able to sell the beer he was making out of his garage, he still needed taste-testers to try the beer and offer feedback.
"I would hold these parties where people could come and drink for free, that's where it all started," Schritter said.
After finding the best beers for his future brewery, Schritter began the long process of opening a small business. This required business licensing, alcohol permits, equipment and, of course, a location.
After some searching, Schritter found the perfect, little building located right in downtown Kingman, at 421 E. Beale Street. The only problem was, the place really needed some work and a little TLC.
Schritter said when he first saw the place, he loved the location, but the interior provided the bare-bones of what was needed for his brewery. They had to gut the entire space before adding the new furnishings and decorations. Much of what can be found in Black Bridge Brewery was created by local artists and Schritter himself through his love of welding and fabrication.
Schritter now had a location, the proper licensing and some beer ready to sell, but he still lacked a name for his business.
The name "Black Bridge Brewery" was not easily chosen. It took Schritter months of searching until one day, his father said, "What's the name of that place you went to as a kid?" After a quick search to make sure the name wasn't taken, Black Bridge Brewery was officially named.
When the brewery first opened, it only had a few beers on tap. Schritter said because of this, it became very hard to keep up with the demand. He ultimately decided to bring on a friend to help with the growth, his current sales manager, Karry Hovig.
"He (Hovig) took a lot of burden off of me," Schritter said.
Hovig and Schritter took Black Bridge from a small brewery with only a few beers on tap, to currently having close to 20 constantly-rotating beers on tap, a selection of nonalcoholic drinks such as fresh brewed coffee and ginger ale, as well as the inclusion of multiple accounts from businesses across the state who wanted to sell Schritter's beer.
Black Bridge Brewery has become a local favorite, where residents and tourists can come together, share a drink and get to know one another.
"The sense of community is really nice," Schritter said. "You just know everyone, and if you don't, you get to real quick."
The love that Schritter has for Black Bridge Brewery and the community can be seen through the multiple photographs of the namesake bridge, the giant infographic detailing the brewing process that hangs on the wall and of course the beer that Schritter constantly pours his passion into.
"It's a hobby, it's not work," he said.
More like this story
SUBMIT FEEDBACK
Click Below to:
This Week's Circulars
To view money-saving ads
For as little as $3.49*