Fireworks may be banned in Mohave County, but there are still shows to see

Originally Published: July 4, 2017 6:05 a.m.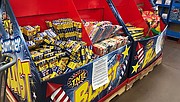 For the first time since 2014, Mohave County has banned fireworks on public and private land. While the City of Kingman already bans the use of fireworks in city limits, Bill 1158 stops the sale of them.
"Bill 1158 says whenever a government agency, federal or state, issues Stage 1 restrictions for our area, we can enact the sales prohibition," Kingman Assistant Fire Chief Keith Eaton said. "It's not something we do every year. We did it in 2014. We didn't in 2015 and 2016."
With the ban in effect, all fireworks at Kingman's Walmart were off the shelves by Thursday evening.
Eaton suggested residents attend the city's 4th of July celebration. The gates at the Mohave County Fairgrounds open at 7 p.m. July 4 and fireworks start at 9 p.m.
"Those are the only ones that are legal," Eaton said. "It's a professional show and we approved those fireworks with inspections."
Eaton didn't know what residents can do if they already purchased fireworks, but according to an article in the Mohave Daily News, consumer fireworks are legal in Bullhead City through July 6.
However, Eaton knows that every year Kingman residents still use fireworks despite the ban and he expects the same thing to happen this year.
"We always have people shooting off illegal fireworks and, of course, there is a fine that goes along with that," Eaton said. "But that's just something that we constantly have."
If caught violating the ban, individuals can be fined up to a $750 and/or serve up to four months in jail. Even those who decide to go outside city limits can face penalties, but Eaton said the Mohave County Sheriff's Office handles those cases.
While Eaton couldn't report specific numbers on firework use outside city limits, he is well aware of the fact that it does happen a lot.
"I do know that there are quite a few fireworks set off outside the city limits and I do know that people buy them in town and take them outside the city limits," Eaton said. "They buy them in town and use them in town. It's just the nature of it. It is illegal, but people still do it. We just hold our breath every year hoping that nothing big comes from it."
Other free firework displays can be found in the surrounding area.
Valle Vista
Valle Vista Country Club's annual July 4 celebration will take place today. There will be games and face painting for children, golfing, food, prizes and a 50/50 raffle. Then fireworks after dark. Fun for the entire family.
Lake Havasu
Lake Havasu will have its annual "Fireworks over the Lake" show for families to visit. People are invited to spend an entire day on the lake and then stop in at Thompson Bay to watch the fireworks.
Laughlin
The 26th annual "Rockets over the River" fireworks display along the entire Laughlin River Walk or from your favorite Laughlin hotel takes place tonight as well. The pyrotechnic company launches the rockets into the dark desert sky with the reflection of each colorful explosion shimmering on the Colorado River. Patriotic music will be choreographed to the fireworks and simulcast over speakers by Laughlin hotels and local radio stations.
Las Vegas/Boulder City
Head to Heritage Park in Henderson for the Las Vegas July 4 display. Games and concessions start at 6 p.m., the fireworks begin at 9 p.m.
In Boulder City, their 69th Annual Damboree Celebration happens in different parks throughout the day. The big event, though, starts at 4 p.m. at Veteran's Memorial Park with food, games and a water park. The fireworks are at 9 p.m.
More like this story
SUBMIT FEEDBACK
Click Below to: