Fire victim picks up the pieces after July 2 Butler blaze

Originally Published: July 7, 2017 6 a.m.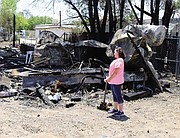 Christy Brown was never promised that life would be fair. She lost nearly half of her belongings in the Sunday, July 2 fire in Butler, less than three weeks after her husband died of a heart attack. After all that, it would be easy for Brown to not only declare life isn't fair, but it's downright cruel.
"My mom got out. That's the most important thing," Brown said Wednesday at the property. "When I see this I can only thank God my mom got out alive and is OK."
It took 42 firefighters with 12 engines, four water tenders and a brush engine to battle the blaze that destroyed four mobile homes, four out-buildings, five vehicles, one boat and one utility trailer. Three other homes were damaged, according Northern Arizona Consolidated Fire District Interim Fire Chief Wayne Eder.
Brown's mother, Barbara Alongi, noticed the fire coming toward her residence across an empty lot on Devlin Avenue. She grabbed a garden hose and began to water down the wooden fence in the back of the property, but gave up shortly as the fire began to creep over the fence in the 15-20 mph wind.
Alongi, 75, grabbed her cane and purse and began walking west on Hearne.
"I was losing it," Brown said. "I saw the smoke, but couldn't get over there. I knew she was tired. She had walked to Family Dollar, and she could have been taking a nap."
After an hour of watching the smoke from the fire that was gobbling up a part of her mother's neighborhood, Brown finally received word that her mom was OK.
Michael Brown
Christy Brown, then Christy Alongi, met Michael C. Brown in 2016 when they became acquaintances and friends at church. Being on the older side of life, they were cautious about getting into a relationship.
It was on Father's Day last year when fate began to pull them together. Christy Brown needed a ride home from church, and Michael Brown was there to offer one.
"We went to lunch that day," Brown said. "It was terrible and we laughed about it. Things happened really fast because we felt so connected. He told me he would have married me on the third or fourth day after that."
A marriage didn't happen that quickly, but they did tie the knot in October.
Michael Brown had medical issues, including diabetes. Christy Brown was surprised and devastated when her husband of a few short months died from a heart attack June 13.
She was in the process of leaving the home she shared with her husband to live with her parents. Brown is staying there through today and has found a good Samaritan who is going to let her stay with them while she gets back on her feet.
"It's hard to be here in this home where we lived the past year," she said by phone Wednesday. "It's really difficult."
Moving forward
NACFD Chief Eder wrote in release that "the fire was determined to be intentionally set with evidence turned over to" Mohave County Sheriff's Office.
"It's still under investigation," said MCSO spokeswoman Patricia Carter Wednesday.
The American Red Cross was one of 10 organizations that answered the call Sunday. Vern Marschall had just returned to Kingman from working 16-20 hours a day at the Goodwin Fire near Prescott Valley. He saw the smoke from the Devlin Avenue fire and headed over to the site.
"We sent a response team," Marschall said. "We provided immediate assistance, what we consider the first 24 to 48 hours of need. If they had family or friends they could stay with, then great. If not, we made sure they had a place that night."
Brown has the good Samaritan in Valle Vista, and her parents own a place in Dolan Springs, though that isn't ideal because of their ages and medical conditions, so having a place for now is covered. Brown lost half of her belongings, and her parents lost everything they had in the residence on Hearne.
Friends and family of the Alongis and Brown have started donation pages for those who would like to assist the family in getting back on their feet. The Alongis can be helped at https://www.gofundme.com/danny-barbara-alongi-house-fire, and Christy Brown may be assisted at https://www.youcaring.com/christyalongibrown-867710.
"The main thing is my mom got out safely," Brown said. "This tells you something about these Kingman winds. When fire happens here, it moves. But there is good to come out of it. My mom got out."
More like this story
SUBMIT FEEDBACK
Click Below to:
This Week's Circulars
To view money-saving ads
For as little as $3.49*