Last wishes: People have made odd requests at the end
By
Aaron Ricca
|
ARicca2
Originally Published: July 10, 2017 6:05 a.m.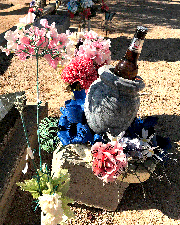 "The spouse (of the deceased), I can't remember if it was the husband or wife, loved hummingbirds. During the service, a hummingbird flew right up to (the surviving spouse's) face and hovered for about 15 seconds. It was kind of odd."
Ray Aldridge
Cemetery Broker
Most funerals and burials requests are solemn, quiet and civil as part of the celebration of one's life. Others, not so much.
Writer and "gonzo journalist" Hunter S. Thompson had his ashes shot out of a cannon to the tunes of "Spirit in the Sky" and "Mr. Tambourine Man." "Star Trek" actor James Doohan had his ashes shot into space. The internet is full of stories of odd, eccentric and expensive last requests.
According to the owners and employees of Kingman funeral homes and cemetery, most burial requests and funeral experiences have been tame, but not always suit-and-tie, speak your peace and move-on ordeals.
A Man and his Snowmobile
Jerome Miratsky, owner and funeral director at Mohave Memorial Funeral and Cremation hasn't seen anything out of the ordinary in Kingman, but once buried a man alongside his snowmobile at a private cemetery he owned in Bozeman, Montana.
According to Miratsky, the man had died in a car wreck, was an avid outdoorsman and the family asked that his snowmobile be buried next to him, to which Miratsky gladly complied.
"We had to dig the whole bigger than usual, and, because of environment restrictions, had to drain the fluids out," he said. "I was glad to do it. It was a major deal for the family."
Miratsky has been a funeral director for nearly 30 years. He was the owner of Lake Havasu Memorial Gardens for 15 years and opened Mohave Memorial in June 2016.
Funerals and burial requests have been mild at his businesses – so far. For Miratsky, the snowmobile takes the cake.
"It was a once in a lifetime ordeal," he said.
The Pieces Come Together
Details of unique services for Lietz-Fraze Funeral Home rolled in slowly as the Daily Miner's interview progressed.
Nothing sparked funeral counselor Krista Gunnoe's memory at first.
"Other than people having their pets cremated and the ashes buried with them, I don't recall anything strange," she said.
Their Kingman and Lake Havasu City funeral homes handle arrangements for human and pet cremations.
Lietz-Fraze pre-funeral needs counselor Liz Krasnansky, who works at both locations, later chimed in with a stand-out request of a Lake Havasu woman.
"A wedding dress and a Farrah Fawcett wig," Krasnansky said.
The Lietz and Fraze families have jointly owned the Mohave County business since 1981. Gunnoe called owner Kristen Lietz shortly after the interview, who swiftly added that the funeral home has buried people with golf balls, beer, wine, cookies, check books and rolls of quarters, "to pay the toll".
Lietz told Gunnoe that the weirdest request was to have a young man buried in the position playing his guitar, "because that's what he liked to do."
It's a Small World
Jamie Sutton-Zorn, funeral director at Sutton Memorial Funeral Home, didn't necessarily have stories of the services or burials themselves, but rather a weird coincidence spanning three decades.

She and her brother, James Sutton, both funeral directors, attended a year apart the San Francisco College of Mortuary Science in the mid-90s. Each year, one particular professor told students the anecdote of a young mortuary apprentice murdered, along with the funeral home's elderly caretakers, during a botched robbery in the 60s.
The siblings thought nothing of the tale until years later when they were sifting through old files and stumbled across an old Mohave Daily Miner article and discovered that the murdered apprentice was from Kingman.
"It was weird that he was from Kingman," Zorn said. "Of all the stories (the professor) could tell. It was a story he told every class."
They've since saved the news article and put it in a funeral file. Numerous attempts by the Daily Miner to get a peek at the article or detailed information on the connection were unsuccessful.
The Final Show
Mountain View Cemetery Assistant Manager Nikki Roe perked up while simultaneously raking the dirt above a recently filled grave and describing the colorful funerals she's witnessed.
"People get really creative," she said.
Her experiences include carrying caskets covered in magnets and stickers – tokens of the deceased travels and sports teams. There was even a die-hard Arizona Cardinals family who showed up decked completely in fan gear.
Cemetery broker Ray Aldridge has been running the show for 20 years. He's seen a fair share of bikers and folks passing around bottles of booze. It's when a family wants to bring the deceased (rather than the funeral home) that raises red flags for Aldridge.
"The family showed up in an old pick-up truck with a custom paint job with the casket painted to match," he said.
Sometimes grave markers pose a threat.
"A kid fainted once and his face landed right between two headstones," he said. "It was a miracle he didn't hit one. It would've been a mess."
The occasional funeral service airs of anger, animosity and resentment.

"I've had to do two services for the same family," Aldridge said. "One side didn't want to talk to the other. That's not usual though. Families usually get all the drama out of the way before they get here."
The services are usually tranquil, sometimes with a touch of mystery.
"The spouse (of the deceased), I can't remember if it was the husband or wife, loved hummingbirds," Aldridge said. "During the service, a hummingbird flew right up to (the surviving spouse's) face and hovered for about 15 seconds. It was kind of odd."
Green Burials
Returning to nature as nature intended is making a comeback in some parts of the country.
According to a 2016 Cronkite News article, registered "green burial" sites have grown from one in 2006 to more than 300 across 41 U.S. states and six Canadian provinces.

The National Funeral Directors Association describes a natural, or green burial, as when the body is buried, without embalming, in a natural setting. Any shroud or casket used must be biodegradable, nontoxic, and of sustainable material. Flat rocks or trees are used as markers as opposed to the traditional standing headstones. Some cemeteries use GPS to mark the locations of gravesites. A "natural or green burial" may also simply mean burial without embalming, in a biodegradable casket without a vault, when permitted by a cemetery.
A green cemetery is a burial site that does not permit vaults, non-biodegradable caskets or embalming chemicals. It uses no herbicides, pesticides or irrigation for maintenance of the cemetery grounds. Any material used at a green cemetery must meet the goal of replenishing the earth.
"We can't do that here," Aldridge said. His family has owned to cemetery since the 70s, and between nature and logistics, won't permit it. "We require a vault."
And on more thing: No offensive headstones.
"We had a father whose daughter was murdered and he wanted to inscription to read, 'murdered by so-and-so,'" Aldridge said. "I wouldn't do it. I've had women employees who would freak out over that sort of thing."
More like this story
SUBMIT FEEDBACK
Click Below to: