Powerhouse's Route 66 Electric Vehicle Museum adds 6 vehicles
Originally Published: July 13, 2017 5:57 a.m.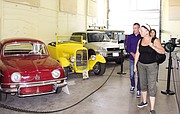 KINGMAN – The collection of cars at the Route 66 Electric Vehicle Museum grew larger Wednesday with the addition of six new vehicles that played a significant part in electric car history.
The Historic Electric Vehicle Foundation sent two more Custer vehicles from curator Larry Fisher's collection to the museum inside the Powerhouse Visitor Center, giving the museum one of the largest Custer displays in the world.
A Custer "Cootie" car is on its way to the museum.
"This tiny EV is the smallest known licensed electric vehicle ever made," said Roderick Wilde, executive director of the Historic Electric Vehicle Foundation. "The license plate is wider than the body of the car."
These cars could be seen on the streets of New York City in the early 1920s.
They were created by Levitt Luzern Custer, who was an avid balloonist and friends with Orville Wright. His first patented invention was the Statoscope, which determined whether an object lighter than air was ascending or descending.
The museum also accepted a bright red 1993 Danish-built City-El donated by Karl Knapp of Palo Alto, California. It may be the only surviving all-Danish City-El in the United States.
Another City-El is being donated by Sara Yerkes, wife of the late Bill Yerkes, who is referred to as the "Henry Ford of Photovoltaics."
Two more electric "micro cars" were added to the museum from Fisher's collection. One is the white 1954 Autoette that singer Perry Como once called "the greatest thing since sliced bread."
Notable owners of the Autoette included Bing Crosby, Bob Hope, Lucille Ball and President Dwight Eisenhower. It appeared in the David Chase movie "Not Fade Away."
The other micro car is a 1958 Mobilette made by Bennison Electric Car Sales and Service, founded by Harry Bennison in 1948. It was the first to bear the Mobilette name as Bennison changed the company's name to Mobilette Sales and Service in 1956.
Another Autoette will be added to the museum after its restoration, and a teal-colored 2000 Corbin Sparrow (No. 32) is being donated by Yvette Subramanian of Orinda, California.
The museum is raising funds with the raffle of an electric-powered horseless carriage that does not fit the criteria to be included in the museum, Wilde said. It was donated for the fundraising effort.
"We are an all-volunteer organization with salaried employees, so 100 percent goes to making the museum a more vibrant and educational experience," Wilde said.
The horseless carriage is currently being upgraded to appear similar to a 1903 Columbia Electric with brass-period carriage lamps upgraded from kerosene to LED lighting and a larger motor with lithium ion batteries.
Go to www.hevf.org for more information on the project.
More like this story
SUBMIT FEEDBACK
Click Below to:
This Week's Circulars
To view money-saving ads
For as little as $3.49*