Prep Football: Kingman High focused on team mentality entering 2017 season

Originally Published: July 14, 2017 6 a.m.
KINGMAN – Kingman High School football coach Cam Wierson is no stranger to the inside of a locker room.
Through the years, Wierson has witnessed many teams talk about being a family.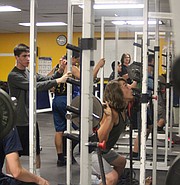 However, very few squads actually accomplish that goal. That's not the case for the Bulldogs though.
"I learned that this football team, we're a family," Wierson said. "For a lot of these kids, these are some of the closest relationships that they have. This is a family and it's huge because love is more powerful than fear and anger. We have that here. That's exciting."
That mentality was evident Thursday, as Kingman continued summer workouts before the official start of practice July 24. As each athlete hit the weights for speed drills, fellow teammates offered words of encouragement that is sure to pay dividends this season.
"The hard work in the weight room transfers over to the field because it's the same mindset of trying to get better and the whole team focusing on building as one," Kingman's Kyle Ferguson said. "That's pretty much what we have to stay focused on."
The family mentality is also useful for the Bulldogs considering Wierson knows they'll play teams that have bigger and more talented athletes. Even with that in mind, the team is determined to make sure they band together as one and overcome any obstacle in their path.
"We learned that we shouldn't let little failures bring us down," Kingman's Darrell Mitchell said. "We know that it's not always the end of the game if we have a bad first half. We worked hard this summer. We're going to go out there confident. We're going to go out there fighting. That's just what we do around here now."
Wierson also talked about the new culture of Kingman football, including the vast improvements in the weight room. While the Bulldogs have made strides from where they were at this time last year, Wierson knows there is still work to be done.
"There are some kids in this program that have developed strong leadership skills and work ethics," he said. "We have a core we can build around. You hope when you're a head coach that you're going to come in and change things tomorrow, but it takes time."
An example Wierson offered was last year's 28-6 season-opening loss to Lee Williams. Wierson knows the Volunteers have bigger, faster and stronger athletes, but the Bulldogs held their own in the game.
"We were in the ring with them swinging haymakers for 12 rounds," Wierson said. "I admire the heck out of these kids. They showed me a lot of guts to go up against someone out of their class. There was no quit in them."
More like this story
SUBMIT FEEDBACK
Click Below to: