Desert Stars Volleyball camp helps youth get early start

Originally Published: July 16, 2017 5:59 a.m.
KINGMAN – Nona King knows athletes greatly benefit from starting to play volleyball at an early age.
To that end, the 16U head coach of the Desert Stars Volleyball Club team could be found Friday instructing a group of girls at White Cliffs Middle School.
"That's our goal – to get them playing volleyball younger," King said. "… We're getting them in here as young as seven – we had a seven year old here this morning. Getting them started young and hopefully help our whole program city-wide."
Photo Gallery
Desert Stars Volleyball camp, July 14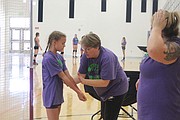 The Desert Stars Volleyball club team hosted a two-day camp Friday and Saturday at White Cliffs Middle School. Photos by Beau Bearden.
DSV has succeeded thus far, with squads featuring players from five area middle schools and high schools. King mentioned DSV has travel squads for 14, 16 and 18 year olds, but she has her sights set on adding a 10- and 12-year-old group. However, King has even bigger aspirations.
"We're also hoping to get a boys team started," she said. "That's my ultimate goal."
If the numbers at the first day of a two-day camp were any indication, she could be on her way to creating more interest in the sport. King already saw numbers from last month's camp increase, which is a good sign of things to come.
"We have probably close to 15 kids here that we did not have at our last camp," King said. "By word of mouth and Facebook, we managed to build quite a bit this time around."
DSV is also leaning on its older 18U girls to lend a hand and coach the 10 and 12 year olds, especially because it will help them improve their game.
"It's so good for them to go back to the basics and pick things apart," King said. "They don't think about it anymore. So this way, they're going to have to stop and break things down – which is hard for them, but also very good for them."
Lorelei Fernandez, a member of the 18U DSV squad, was out on the court Friday participating in some of the drills. The incoming Lee Williams High School sophomore knows the experience will pay dividends down the road.
"It's a good learning experience for me if in the future I want to coach," Fernandez said. "This is going to help me a lot and give me an idea of what I need to do and everything."
DSV held a parent's meeting Saturday, but those interested in playing can still email dsvofkingman@gmail.com for more information. King said tryouts will be in November and DSV will hold open gyms during the first or second week of November.
More like this story
SUBMIT FEEDBACK
Click Below to:
This Week's Circulars
To view money-saving ads
For as little as $3.49*