Is it possible to create a bike-friendly Kingman?
By
Aaron Ricca
|
ARicca2
Originally Published: July 16, 2017 6 a.m.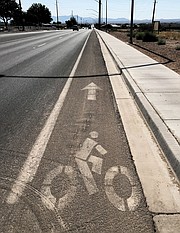 Kingman isn't exactly known for its bike friendly atmosphere, but could that change?
Riding a bicycle on Kingman streets – especially on major traffic arteries such as Stockton Hill Road or Andy Devine Avenue – can feel like a scene out of "Mad Max." Cycling is not just about riding either. Bike racks for securing your ride are plentiful, which is a good thing. Debris on the roads is not.
According to the City of Kingman Streets Department, there are already five miles of dedicated bike lanes inside city limits on portions of Gordon Drive, Bank Street and Airway Avenue. Those don't include shared use paths on Mohave Wash, Railroad Street, Beverly Avenue and Hualapai Mountain Road.
The Costs
"Unfortunately this is a moving target," said Street Superintendent Jack Plaunty via email.  "The cost per mile depends on many factors including roadway geometry, type of bike lane, etc." 
He estimated it would cost the city about $9,000 per mile for the initial installation of the required signing and pavement markings for a typical bike lane. 
That doesn't include road widening that would be needed for the installation of a bike path to meet federal standards. The existing roadway has to be wide enough to accommodate the bike lanes and maintain minimum traffic lane widths. 
"Many roads within our network are not wide enough to accommodate the addition of bike lanes without removing a traffic lane or relocating the curb to widen the road," Plaunty said.
The city can't just go and paint stripes either.
"If we paint lines, we have to shift everything else on the road," he added.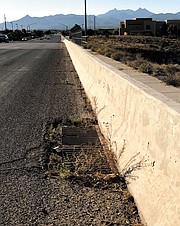 City ordinances play into the addition of lanes also.
The city can add the bike lanes to meet federal standards on existing roads if they're wide enough. City regulations do not require the installation of bike lanes for new construction.
Plaunty said an amendment to require the installation of bike lanes on certain functional classification roadways is currently being developed for proposal to city council.
The Law
Arizona state law says cyclists have the same rights and responsibilities as motorists, including stopping at lights and signs, appropriate lighting at night, yielding to pedestrians at sidewalks and crosswalks and signaling a turn.
According to Kingman Police Deputy Chief Rusty Cooper, bikes are required to follow motor vehicle laws, which means they cannot be lawfully operated on sidewalks. The city rules and regulations are not as restrictive as Arizona Revised Statutes as they relate to bicycles. 
"Obviously this would mean that young children and families would be getting stopped and ticketed, which isn't encouraged," Cooper said. "Officers have the ability to use discretion when enforcing these laws."
A downtown bicycle pub crawl might be unsafe, but it is legal.
Cooper said it is not possible to get a DUI on a bike or horse in Arizona. However, it is possible to get a DUI on a bicycle that is motorized if it meets the ARS 28-101 definition of a vehicle as:

"A device in, on or by which a person or property is or may be transported or drawn on a public highway, excluding devices moved by human power or used exclusively on stationary rails or tracks."
The Culture
Depending on one's tolerance of Kingman's sizzling hot summer and blistering cold winter, what can be considered comfortable riding is up to the rider. Cycling can be a healthy, mind clearing way to get around. It's alternate transportation for some, the only transportation for others.
Kyle Burchard, manager at Bicycle Outfitters on Stockton Hill Road, said he gets the occasional tourist passing through on a bike, but most of his customers are mountain bikers.
"I do get a lot of people saying they wish we had more bike lanes," he said.
City of Kingman Public Works Director Rob Owen had worked on a bike plan in 2000 to see where lanes might best be added. It included an inventory of roads and trails, some of which have become multi-use pathways.
"We didn't have any lanes in place at that time," Owen said. "We do now. I think we're trying to update that inventory."
Adding more lanes depends on much needed street repairs.
"What we plan on doing, if we do any more milling projects and if streets are wide enough after pavement preservation, we'll add lanes," he said.

Mayor and cyclist Monica Gates is all for the project.

"I'd like to see more bike lanes and I think a lot of our community members would like to see them as well," she said.
Gates used to ride quite a bit while in preparation for a bike race in Iowa a few years ago. She commuted a few times through Kingman on a road bike, but stopped after hitting a pothole and flying hand over fist. Now she sticks to the occasional mountain bike ride around her Riata Valley neighborhood.
It's those mountain bike rides that made her think how the downtown business district could tie into the Monolith Gardens trail system.

"Downtown bike lanes might be a nice segue into the trails," she said. "We've got a great climate conducive to bike riding and want to continue to see bike lanes. (Cycling) promotes such a healthy lifestyle."
Bikes lanes were added on the city side of Gordon Drive when it was widened. The extension of Airway Avenue under the railroad tracks also came with bike lanes.
The more, the merrier.

"Moving forward as we develop new arterials, we want to include bike lanes," Gates said.

More like this story
SUBMIT FEEDBACK
Click Below to:
This Week's Circulars
To view money-saving ads
For as little as $3.49*