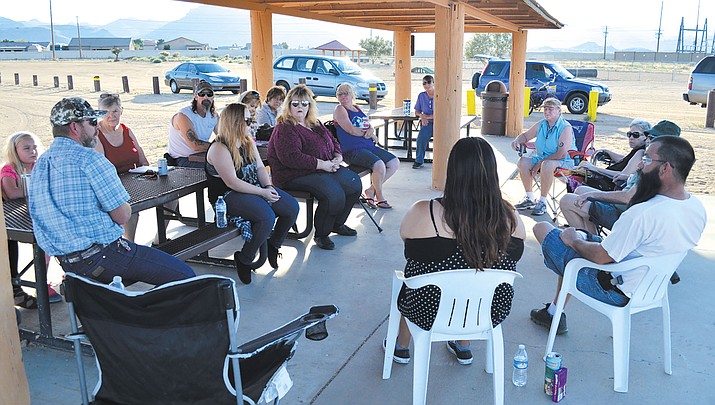 Photo by Aaron Ricca.

Originally Published: July 19, 2017 6 a.m.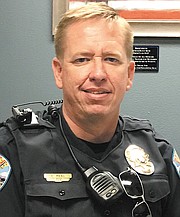 "You can't be afraid to be targeted."
Regina Garcia
Neighborhood Watch Activist
Law enforcement can't be everywhere at once, and some residents have taken the initiative to keep an eye on their neighborhoods.
About 20 Butler residents met at Neil Butler Park Thursday to mobilize against crime. Resident Regina Garcia has started a Butler Area Neighborhood Watch Facebook page and has rallied other residents to meetings in the last two months.
A rash of thefts and the recent fire that destroyed four homes are what prompted her to act. She's been in touch with Mohave County Sheriff's Office liaison Troy Schmotzer, who meets with residents and provides guidelines for the group.
"He clearly states that it's their responsibility to keep the Neighborhood Watch program alive and running," said sheriff's spokeswoman Trish Carter. "He is always available for consultation."
The Kingman outskirts stereotyped as notorious for run-down mobile homes, transients and meth addicts are home to about 12,000 people according to www.suburbanstats.org.
"It's not a bad neighborhood," said Butler resident Nathan Escoffier. "There are just some punks that pass through."
Escoffier and others are frustrated both with the crime and lack of response by sheriff's deputies. They are well aware that MCSO is stretched thin, but sometimes wonder why certain calls get attention and others don't.

"They prioritize their calls," Garcia said.
She told the group to make an effort to know their residential surroundings
"Do you know your streets well enough to know your neighbors?" Garcia asked.
She's inherited some risks by starting the watch group. She's had the tires on her truck flattened and lug nuts removed.
"You can't be afraid to be targeted," Garcia said.
Others in the group agreed that if they make a visible effort to keep an eye open, the nefarious characters that roam the neighborhood will notice.
"If enough people stand up, they will go away," said resident John Huber.
Carter said it's difficult to quantify how many Neighborhood Watch programs are active in MCSO jurisdiction. Throughout the years, the sheriff's office has started groups in So-Hi, Golden Valley and the Butler and Birdland areas.
"When Neighborhood Watch programs stay alive and active, the sheriff's office definitely receives more calls for service in those areas," Carter said. "In addition, when suspect(s) know the residents are watching in their community, (they'll) move on to another area."
There are eight Neighborhood Watch programs within Kingman city limits according to Sgt. Danny Reed, KPD's Neighborhood Watch coordinator
"Crime statistics can be a gauge in neighborhoods with Neighborhood Watch," he said. He has research showing total police calls in the Mountain View estates off of Gordon Drive went down 67 percent from 2016 to 2017, while total calls agency wide are trending up at least 15 percent.
Commitment is key in organizing a Neighborhood Watch group.
"Anyone can act as a coordinator who has the time to communicate with residents," Reed said. "The level of commitment is relative to the level of organization the Neighborhood Watch wants to employ."

For example, there are Neighborhood Watch groups in the community that are "active," however few have organized communications. Then there are Neighborhood Watch groups in the community that are extremely active, with newsletters, block parties, meetings, and other organized communication, Reed said.

KPD will assist however they can to help organize a group of residents interested in Neighborhood Watch to include meetings, publications and street and personal residence signs. KPD will then continue to work with Neighborhood Watch coordinators to meet whatever goals the group sets forth.
"KPD also enjoys the assistance of other citizens who have been very successful as Neighborhood Watch coordinators, and who are willing to assist other groups in their start-up and continuing success," Reed said.

MCSO wants to clarify that Neighborhood Watch is not a group of vigilantes or people taking the law into their own hands.

"Neighborhood Watch citizens do not take the place of their police department in enforcing the law or apprehending criminals," Carter said. "Deputy Schmotzer also offers information for the Neighborhood Watch program participants to be safe and to never take action on their own, other than calling 911."
Garcia and company know they can't fight all crime, but they can protect each other and their neighbors.
"We have to keep doing what we're doing," she said. "Watching and calling the police when we see something."
The next Butler Neighborhood Watch meeting will be 6 p.m. Aug. 19 at Neil Butler Park.
For more information on a Neighborhood Watch group, contact Reed at 928-753-2191 or Schmotzer at 928-753-0756.