Prep Football: Vols build team chemistry at camp

Originally Published: July 21, 2017 6 a.m.
KINGMAN – During a three-part drill consisting of sprints, backpedals and bear crawls, a considerable number of Volunteers found themselves behind the pack Thursday at Lee Williams High School's football camp. While the athletes who finished first could have easily caught their breath after the grueling drill, they instead provided inspiration for their fellow Vols during the final day of a three-day camp.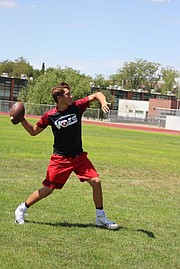 "We're getting that bonding experience and we're doing things right with more of a family attitude," Lee Williams football coach Clint Sasse said. "They're finishing bear crawls and there are a lot of other kids who need help, not physically – they can't pick them up and take them – but mentally, they need that help. They need the older guys to help, to tell them to push through and finish."
Lee Williams wasn't the only team in attendance, however, as Phoenix's Glendale High also ran drills of its own on a different field. The two teams then met at the end of each evening in 7-on-7 competition. Lake Havasu City High School also joined in.
"It's good to have the competition and have the kids go out there and get after it," Sasse said. "They have fun and meet the kids from the other schools. It's just a good learning environment."
The camp wasn't just about competition though, as the schedule also featured weight lifting and film study. The Vols even gathered for breakfast, lunch and dinner during a grueling day that started at 7:45 a.m. and ended at 8 p.m.
However, Lee Williams' Edmond Ashton knows that the time spent together will prove valuable when the Vols lace up their cleats for the first game.
"When the season comes, we can be a family and fight together," he said. "When it comes to Friday night, we're all together as a family, and we're going to take out whoever is in front of us."
More like this story
SUBMIT FEEDBACK
Click Below to: