Kingman Center for the Arts has an open call for 6X6 on Route 66 Art Show
Originally Published: July 24, 2017 6 a.m.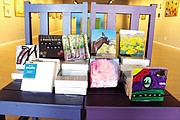 When Pat Evans retired here four years ago, she immediately started looking to get involved in some kind of arts organization, driving to Las Vegas to join the Fabulous Las Vegas Scribes calligraphy club.
So when Sara Peterson and Kristina Michelson founded Beale Street Theater group in 2016, Evans was more than willing to jump on board and contribute in whatever way she could.
The former arts department administrator in California accepted the role of secretary of the board and is organizing the 6X6 on Route 66 Art Show to benefit Kingman Center for the Arts, the nonprofit organization whose purpose is to promote the arts in Kingman.
The organization is selling 6-inch-by-6-inch canvas pieces for $5 to be painted or decorated for the art show opening Sept. 22 and running through Oct. 9 at the studio and gallery at 202 E. Beale St. Art students get a canvas for free.
Evans is hoping that the artists will donate their work back to Kingman Center for the Arts to be sold for $20, with select pieces by notable artists such as Doris Lightwine and Steve Kocher priced a little higher.
It's the major fundraiser of the year for the art organization. Evans has about 500 canvases, 200 of which were purchased and donated back by Blick Art Materials and 200 by Kingman tourism director Josh Noble.
"I doubt we'll sell all 400 canvases," Evans said. "I'm hoping to raise $2,000."
The money is needed to pay the rent and utilities and support art classes at the studio and gallery.
"Route 66 is our thing, and so a 6-by-6 canvas is an iconic size, so to speak. The idea is to get a bunch of pieces of artwork and sell them inexpensive. So they're inexpensive and fun," Evans said.
The artwork is to be completed and returned to the center by Sept. 8. It's open to any media using the 6-inch canvas as a base, as long as the artwork stays within the canvas. Wall-hung or sculptural coverages may be acceptable. Exhibition of artwork is subject to acceptance by the art organization. Examples of "family-friendly" artwork are western scenes, Route 66, still life, portraits, animals, calligraphy, abstract and collages.
"People come in and say, 'I'm not an artist.' If you're a cook or baker, glue your favorite recipe on the canvas, and that's art. If you're a poet, write a poem. Take a picture of a cake you decorated. Art is so many things … a musical score," Evans said. "People need to realize art is all around and it's many different things."
The 6X6 on Route 66 show will take a "shotgun" approach, peppering the gallery walls with hundreds of canvases, Evans said. "It'll be like a treasure hunt to find the one you like."
Artwork not purchased will be available for pickup by the artist until Oct. 20. Afterward, it becomes property of KCA.
The primary goal of KCA is renovate the historic Beale Street Theater in downtown Kingman and use it as a performing arts venue. Other uses include live concerts, recitals, community events and classic movies.
Its secondary goal is education. Kingman Center for the Arts opened this year offering classes for adults and children in visual arts, digital art, drama, music and dance.
The third goal is to encourage business development in historic downtown Kingman with more art galleries and unique artisan shops.
More like this story
SUBMIT FEEDBACK
Click Below to: