Why not stay in Kingman

Originally Published: July 25, 2017 5:55 a.m.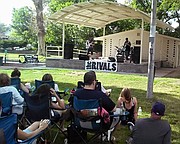 I recently read in the Daily Miner an article on tourism in our community. I often read about the big attraction of Route 66. Personally, I found many other things that attracted me to this community, but that is an entire other story.
Because I live close to both the Hampton Inn and La Quinta hotels, I can't help but notice just how many cars are in the parking lot. Of course, it is much more crowded on the weekends, but they still fill up pretty good all week long.
When they first built the La Quinta, I wondered how they would ever keep it going. With all the hotels and motels in our town, it seemed a bit much. Good thing no one asked for my opinion.
We recently had some relatives visit from out of town, and they could not even get a room there. And they are not giving them up cheap, either. They ended up at the Hampton Inn and paid a cool $160 for one night. Of course, both hotels do include a nice breakfast.
Sometimes when I walk through the parking lots of these two hotels, I can't help but check out the license plates. Of course, a large percentage are from California, but many are from as far away as Kansas and Florida and in between. I wonder what they are doing here.
Are they just making a one night stop on their way to somewhere else? Do they have a reason to come here to Kingman? Sometimes I see a 26-foot moving truck with a car attached. I wonder if they are moving here or just on their way to a new life in some other city.
In the olden days, or B.C., which is "before cellphone," most people would look for an easy-on easy-off freeway exit. If you were looking for a hotel or motel, you would just watch for the signs that had the gas, food and lodging logos. Instead of possibly getting lost, most folks wanted to go back to their exit spot as easily as possible. Keep in mind, your phone was not giving detailed directions, and it was plugged in to a phone jack at home anyway. Now we call a landline, while the rest of the world is in cyberspace.
When you are looking for a really good, last minute hotel or motel room now, there are many companies that provide that sort of thing on your phone. While you are driving, your co-pilot can get everything all set up. You can even find out if they take pets, serve breakfast and what interesting things are nearby that you might want to see. With the proximity to Laughlin and Las Vegas, who wouldn't want to come through Kingman? Most of the residents are more than happy to provide information when asked. I admit that seeing a small gun on someone's waistband might be something new, it just gives us a more of an old western feel. Nothing wrong there.
Kingman is certainly not a big town compared to most. But I think we have pretty much all the necessary things that make it pleasant. We have a movie theatre, a full-service library, and we certainly have great shopping and restaurants.
Hey, what more do you need? Oh yeah, a nice park for a picnic with the kids while in town.
I am not a Kingman native, but the longer I am here, the more I am learning that it is not just a good place for retired people. It actually has good schools, and it really is a nice place to raise kids. Now that my granddaughter is being raised here, as well as several young nephews, I am learning a lot of new things myself.
I don't wonder why anyone would want to come to Kingman.
I wonder, why not?
More like this story
SUBMIT FEEDBACK
Click Below to: