By
Aaron Ricca
|
ARicca2
Originally Published: July 30, 2017 5:58 a.m.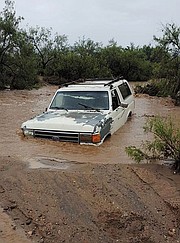 KINGMAN – A rained-out workday turned into a spontaneous swift-water rescue for a local well-drilling crew Tuesday.
July monsoons have already claimed at least 10 lives in Arizona, and thanks to four men from Brown Drilling, two people trying to brave a wash missed being added to the tally.
Co-owner Jon Kaufman and drillers Rafe Beacom, Bill Lott and Derek Penrod took time out of a 15-hour workday Friday to describe via phone interview Tuesday's rescue of a man and woman stuck in raging floodwaters atop of a Ford Bronco in a wash near Blake Ranch and North Stephan roads.
The downpour had forced Kaufman and crew to call it a day. When driving back from a refuel and coffee stop at the Petro gas station on Interstate 40 east of Kingman, they stumbled on the couple literally standing on the top of a full-sized and lifted 80s model Ford Bronco submerged by the flood. The crew knew they had to do something, were aware of the risks, but had no second thoughts about attempting a rescue.
"I didn't want us to become someone who also needed rescue," he said. "But we needed to help them right then."
Before they reached the flooded wash, Beacom and Penrod rushed to the hood of their International 4800 work truck. Lott was handed a cellphone and began shooting video of the rescue while Kaufman took the helm, edging closer to the water.

A YouTube video has been shared on Facebook and picked up by broadcast media in Phoenix. In the video, the couple on the Bronco have a ladder, and they pass it to Penrod, (red flannel) and Beacom (white T-shirt). Concerned that the strength of the ladder was too weak fully extended, Kaufman edges the truck, already submerged in about three feet of water, to about six feet from the Bronco. A few inches closer and the drilling crew would be in need of rescue themselves.
A little more than four minutes into the video, the couple slowly makes their way safely across the rickety ladder to the hood of the crew's truck. Kaufman and crew then back their truck away from the wash to safety.

Penrod identified the rescued man as Lance Gesser, an old acquaintance. The woman's identity is unknown. They haven't reached out to the crew since the rescue.

Mohave County Sheriff's spokeswoman Trish Carter said MCSO Search and Rescue was called and an Arizona Department of Public Safety Ranger helicopter was enroute, but called off the response when the learned of the drilling crew's rescue.
The drilling crew excitedly described what was racing through their minds that day.

"The only thing I could think about was getting them off that truck," Penrod said. "We had a bit of trouble with some bungee cords (also used in the rescue) but once we got it under control, it went pretty smooth."
There were some tense moments between Penrod and Beacom when the ladder looked like it would collapse.
"Both of our minds were figuring out how to get (the couple) onto our truck and do it quickly," Beacom said. "It was always in our minds, but we made it work."
The 44-year-old Lott was ready himself to join Beacom and Penrod, but there was no more room on their truck's bumper.
"I was ready to jump out if need be," he said. "I'm the old guy, so they handed me the camera. We just needed to help those people."
Kaufman calmly exercised years of off-road driving experience, and his crewmates, to navigate toward the Bronco.
"Rafe and Derek were on the front bumper and guided me in," Kaufman said.
Penrod got a kick out of the excitement.
"I think it should be on someone's bucket list," Penrod added. "It's a great feeling rescuing someone."
Amanda Kaufman, Brown Drilling co-owner and Jon's sister, brought the story to the Daily Miner's attention. It took a few days to facilitate a phone interview due to the crews extensive work schedule and remote drilling locations.
Amanda will put her crew through swift water awareness training. They'll also put rescue equipment in company work trucks for any future events.

"They might end up needing it themselves," Kaufman said of the company's work in desolate areas. "We're in the middle of nowhere most of the time. Mother Nature brings us strange things."

Amanda Kaufman contributed to this report.
More like this story
SUBMIT FEEDBACK
Click Below to:
This Week's Circulars
To view money-saving ads
For as little as $3.49*