Photo by Aaron Ricca.

Originally Published: July 31, 2017 6 a.m.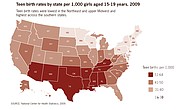 In 2015, the teen birth rate in Mohave County was 10 percent higher than the national average.
To counter that problem, the Mohave County Department of Public Health has the Teen Pregnancy Prevention Program in its arsenal, and Education and Disease Prevention Specialist Tiffany Mathews and her co-worker Sara Lind are leading the way in educating the public, both teens and parents, on the many aspects of sexual health.
"Some parents are afraid we're teaching kids to have sex," she said. "We're not. We're teaching factual information."
The Trump administration decided earlier this month to cut more than $213 million for teen pregnancy prevention programs and research.
According to Reveal, the site for The Center for Investigative Reporting, the decision by the U.S. Department of Health and Human Services will end five-year grants awarded by the Obama administration that were designed to find scientifically valid ways to help teenagers make healthy decisions that avoid unwanted pregnancies.
The gender-specific Wise Guys and Smart Girls comprehensive sexual education curriculums are part of the prevention program aimed at middle and high schoolers. Mathews and Lind travel throughout the county teaching an 'abstinence-plus' curriculum facilitated in eight, hour-long sessions and can be modified to be delivered in fewer sessions. So far, they won't be affected by the funding cut.
Not to be confused with abstinence-only education, the program teaches abstinence, as well as help for teens identifying their personal and family values regarding sex.
"We don't teach the youth what their morals or values should be, that is not our place, we are hoping to for them to begin talking with their parent or caregiver about this subject," Mathews said. "It's a self-responsibility program. We teach about the choices and consequences regarding sexuality."
The curriculum also covers the biological maturity process, sexuality, contraception, sexually transmitted diseases, smart relationships, self-esteem, decision making, goal setting and dating violence, among other topics.

Parents can opt out of any portion of the program, but the idea is to open a dialogue between parents and their children. Mathews is stacked with armloads of factual, science-based information.
"(Teens) are going to make choices. We want them to have the right information," said Mathews. "Do you want them to learn from their peers, the latest movie or internet craze or from a public health specialist whose job is to teach sexual health?"
According to the Center for Disease Control, in 2015, the national average of teen births per 1,000 females 15-19 years old was 22 percent. The same average for teen births of females ages 14-19 in Mohave County was 35.6 percent.

"These are kids in our community," Mathews said. "This is why we have to be having open, honest discussions."
School Education
In December 2016, the Daily Miner took part in a roundtable discussion with Kingman Unified School District administrators, principals, teachers and counselors to learn the depth of their sex-ed curriculum and pregnancy prevention efforts.
Students learn about basic body functions such as hormones, puberty and the menstrual cycle beginning in fifth grade. As of 2016, both Kingman and Lee Williams High School biology classes use the same textbook (Glencoe Health 2007 version), which goes into specific human reproductive biological functions.
The county's Teen Pregnancy Prevention Program curriculum is used in some of their schools. At no point are condoms or any other forms of birth control given to the students by either the county or school district.
More information was obtained during the December discussion, but an attempt to update it was not possible due to the frantic pace of KUSD classes beginning this week.
Education is Power
Mathews is here to talk with the community, not at it. Nor is she trying to take the place of parental guidance.
Not only does she reach out to students, but often hosts 'Parent Nights,' where adults are welcome to ask questions about the Teen Pregnancy Prevention Program. The Wise Guys and Smart Girls curriculum synopsis is passed out both at the parent nights and with consent forms allowing the kids to participate while at school.

"We're not trying to hide anything from the parents," Mathews said.
She provides a welcoming and communicative environment for the teens, but also sets boundaries of respect. Yes, they giggle and make sidebar comments, but once the discussion warms up and they realize they can ask questions, they begin to realize the seriousness of sexuality.
"They want to know about this stuff," Mathews said. "We provide a safe atmosphere for them to ask questions."
Teens also have the right to opt out of subjects that make them uncomfortable and Mathews and Lind never assume teens are having sex, nor do they encourage it. There's no shortage of statistics that point out the negative ramifications of teen pregnancies: increased dropout rates, lower educational achievement and ultimately lower income, which can become a burden on the taxpayer.
"Knowledge is power. If they have accurate knowledge they are more likely to make choices that positively impact their lives," Mathews said. "In our program, the kids know they're cared about. We value the youth in our community and we're helping them to get the skills they need to obtain their goals."
To see teen pregnancy statistics listed in this article, visit www.cdc.gov.
For more information on the Teen Pregnancy Prevention Program, contact Mathews at 928-753-0794 ext. 4282.