Desert Stars Volleyball Club teams bring athletes together

Originally Published: June 1, 2017 6 a.m.
KINGMAN – The Desert Stars Volleyball 18U Club team provides more than just an opportunity for Lorelei Fernandez to improve her play on the court.
The Lee Williams High School incoming sophomore also uses the experience as a way to bond with fellow volleyball athletes.
"It just brings us all together in a good way," Fernandez said. "It's friendly competition, especially when we play against their school. It's really fun. I love the people that I play with."
Fernandez is speaking of Kingman Academy, as there are a mix of high school players on the 18U team. Holly McFadyen, Tori Logan, Sadie Snay, Ashley Sahawneh and Natalie Sanchez join Fernandez as Lady Volunteers on 18U squad, while Aspen Jackson and Isabella Anderson are the two Lady Tigers on the team.
"When we play them, we know what they're going to do because we've been with them for a long time," Fernandez said. "But it's always fun. I love playing as a team, especially when we all cooperate together. That's always a good thing."
That doesn't mean Fernandez didn't have to make a few minor adjustments.
She was only in eighth-grade when she started playing for the 18U team. The competition against high school juniors and seniors was tough for her at first, but she quickly learned a lot.
"It helped me realize how much better you can get if you put the work in," Fernandez said. "I want to go to college and everything. So I think playing is a good experience for me to realize how it's going to be in college."
Fernandez's time as a Lady Vol also helped her, especially considering she was on the varsity team during her freshman year. Nevertheless, she said playing high school and club volleyball helps her push through the intimidation factor and do the best that she can do, no matter what.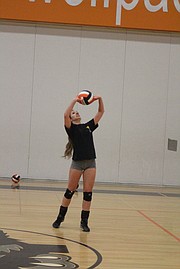 The same can be said for Anderson, who talked about how much club volleyball helps her get better as a player.
"It pushes me to work a little bit harder than if I was playing people my own age," she said. "So that definitely helps, just transferring into trying to go to college for volleyball."
Anderson, an incoming junior at Kingman Academy, started playing club volleyball during her freshman year and is used to the daily grind of the sport.
"Sometimes it does get crazy, but it's also something you just kind of feel weird when you're not playing volleyball," Anderson said. "I've been playing for two years straight."
However, she knows it's all worth it.
"It definitely helps to just be playing constantly," Anderson said. "You have an advantage over the girls who only play certain months of the year."
The 18U team won the bronze division last weekend at the AAU Las Vegas West Coast Volleyball Championship Tournament. The team finished 11th overall and concludes its season with a record of 28-13.
Last season, the 18U team won the Gold Club Division by taking first place out of 80-plus teams.
The 16U team finished 12th at last weekend's tourney in Las Vegas, while the 14U squad took 29th at the same tournament.
The DSV Club is hosting a number of events this summer, highlighted by its third annual Firecracker Frenzy Race at 7 a.m. July 4. Racers can register online at Active.com.
There will also be a few summer camps for boys and girls ages 9-15. The first camp is set for June 9-10, followed by another July 14-15.
Camp registration is available by emailing the Desert Stars Volleyball Club at dsvofkingman@gmail.com. Funds raised help pay for equipment, tournament fees and other player costs for next season.
More like this story
SUBMIT FEEDBACK
Click Below to: