Defense asks court to wait in Rector hearing
By
Aaron Ricca
|
ARicca2
Originally Published: June 4, 2017 5:58 a.m.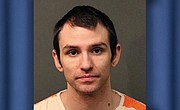 KINGMAN – Between the defense needing more experts and the prosecution wanting a mental health exam, it was almost a repeat of Justin James Rector's March status hearing.
Rector, 28, is charged with the September 2014 kidnapping, child abuse and first-degree murder of Isabella Grogan-Cannella of Bullhead City and burying the 8-year-old girl's body in a shallow desert grave about a quarter-mile from her home.
Rector had been staying with the girl's mother, Tania Ann Grogan, and stepfather, Ralph Folster III, who were later arrested for selling methamphetamine and heroine from their home. Grogan was sentenced to five years in prison for dangerous drugs.
Defense attorney Gerald Gavin told Superior Court Judge Lee Jantzen Friday that as of the March 24 hearing, he had about 95 percent of the records they needed and at the point where he could start hiring mitigation experts to move the trial forward
"Since the last court date, we've made significant progress," Gavin said. "We have at this stage approximately seven experts on board."
Gavin said the experts are for consult only and not yet for testifying. Gavin wants to know their findings before using them in trial. Some are in the early parts of their investigations and some are further along than others.
"I realize the court wants to get this going as quickly as possible for taxpayer's sake, for justice sake," he said. "The problem with some of these experts is we want to do things sequentially."
Gavin went on to explain that the experts will follow each other in their respective fields as well as give Mohave County Deputy Attorney Greg McPhillips time to hire his own rebuttal experts.
"We are certainly in a shotgun approach at this point and we're going to tailor our defense much more narrowly in the future," Gavin said. "Hopefully the near future."
Jantzen wanted to know how close the mental health prescreening evaluation is to being completed.
"We're certainly much closer to when that motion was made," Gavin said. "Most of our mitigation at this stage is geared toward mental health aspect type evidence."
Gavin said his experts are whittling down the most important aspects of the case and will tender them to McPhillips as soon as possible. He also said he had extra investigative help.
"We're attacking the case from multiple angles," Gavin said.
Jantzen said he doesn't want to force the defense to pick a trial date, but wanted an estimate. Gavin said he couldn't give an estimate but insisted he was close. He didn't want to pick a date and then realize the defense wasn't ready. He's waiting to get all his experts on the same page and requested another status hearing.
McPhillips said he wasn't any closer to setting a trial date either and agreed about setting another status hearing, but also said he's "operating in the dark" and has no disclosure, only to the defense when they ask for it.

"We can't do the trial until the (mental health) exam is complete and the sanity issue has been litigated," McPhillips said.
He added that the defense was conflating the process and suggested the court hand over mental health records to the defense.
"We could do this today," McPhillips said.
He said that the case should go forward with whatever documents the defense has now and get Rector's mental health exam out of the way.
"We're looking at a case that's almost three years old," he said. "I'm concerned about losing witnesses."
Gavin and McPhillips basically kept repeating their cases, coming to tense moments toward the end of the hearing.

"I know it's not unusual for these kinds of cases to go longer than other cases," Jantzen said. "We want to make sure things are done right and it's our obligation to make sure they're done right, but there's not an infinite amount of time to put things off.
"I'm optimistic after today that we got more done today since the last hearing," he added. "We're obviously looking at a trial date early next year."
Rector's next court date is set for 2 p.m. July 21.
More like this story
SUBMIT FEEDBACK
Click Below to:
This Week's Circulars
To view money-saving ads
For as little as $3.49*