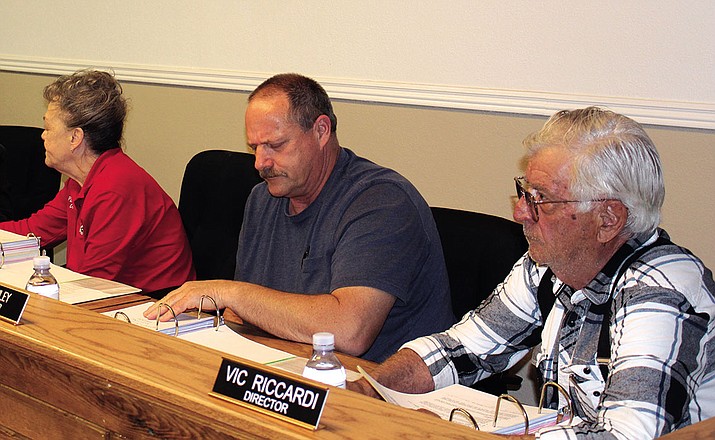 Photo by Hubble Ray Smith.
Originally Published: June 7, 2017 5:58 a.m.
KINGMAN – Vic Riccardi is off the hook on training compliance, but he's under investigation for a conflict of interest as board member of the Northern Arizona Consolidated Fire District.
Mohave County Board of Supervisors took no action on the compliance issue at Monday's regular meeting after County Attorney Ryan Esplin explained that filing a complaint in Superior Court would likely be a waste of money and time.
Though he failed to complete the training within a year of being elected to the fire district board in 2014, as required by state law, Riccardi has provided an affidavit that he attended the course and passed the exam.
That's all a judge wants to see, Esplin said. It was witnessed by the fire chief and another member of the NACFD board.
"The County Attorney's office found that he completed the training in April," Esplin said. "(Our) position is that he has completed it, and there's no need to file a complaint in Superior Court."
A representative for the Arizona Fire Districts Association verified that Riccardi has complied with professional development training requirements, but told supervisors that Riccardi is under investigation for conflict of interest. He would not discuss details.
However, at the May 18 NACFD meeting, board member Mike Collins questioned Riccardi and Fire Chief Wayne Eder about a $4,100 repair made to one of the department's fire trucks at a shop owned by Riccardi.
Eder said the truck was near Riccardi's shop in Valle Vista, 20 miles away, and he didn't want to have it towed to someone who's unfamiliar with the mechanics of a fire truck.
Collins then asked the fire district's attorney about the state law on putting mechanical work out to bid, and the attorney said that would have to be discussed in closed session.
Riccardi is also under fire for his vote in hiring Eder as interim chief in March. A petition was filed shortly after the hiring to recall both Riccardi and board chairwoman Patti Lewis.
Esplin went on tell the board that not a single member of any fire district board in the county was out of compliance, based on his investigation.
"That really speaks well to our fire boards," he said.
Supervisors had directed the county attorney to look into all fire district boards after the complaint against Riccardi surfaced.
Supervisor Jean Bishop was bothered that Riccardi misrepresented the truth at the previous board meeting when he was asked about the training. He "embarrassed" the county, she said.
"We're going to erase it because he took an internet class," Bishop said, "but I'd desire to see it taken to court."
Bishop said "it's just one thing after another" with Riccardi, including violations of open meeting laws and now the conflict of interest.
Chris Simpson, representing the Professional Firefighters of Kingman, said compliance is key to running a fire department, and it has to be completed within a year, not three years.
"I would be fired if I come into work without my training. Not 'We'll give you a couple years.' He should be removed from his position and replaced with someone who complied," Simpson said.
More like this story