Arizona gas prices among highest in nation, but have remained suprisingly steady
Kingman's average price around $2.35 a gallon
Originally Published: June 9, 2017 5:58 a.m.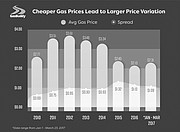 KINGMAN – Arizona is among the more expensive states for gasoline prices from what Lewis Wicoff has seen on his trip from Eutawville, South Carolina to Las Vegas for a short vacation.
He paid $2.40 a gallon Thursday for regular unleaded at Terrible Herbst gas station off Interstate 40 and Andy Devine Avenue, though that was the credit price. It's 5 cents cheaper with cash.
That's exactly on par with the U.S. average, which was $2.35 a gallon Thursday, down 4 cents from a week ago, according to GasBuddy. It's up 5 cents from a month ago and a penny less than a year ago.
"It's a lot different when you get off the highway and it's less," Wicoff said as he pumped close to $40 into his minivan. "It's $2.05 back home. There's no state tax in South Carolina, or very little."
Gas prices have remained steady and even dropped over the past few months, though some analysts are forecasting a rebound in the industry in the near term.
It's been a long and painful downturn for the oil and gas business, with crude oil dropping to about $45 a barrel, and an oversupply keeping gas prices down nationally.
A quick survey of Kingman gas prices Thursday shows $2.24 a gallon for regular unleaded at Maverik on Andy Devine, $2.26 at Safeway and the Pilot Flying J truck stop, and $2.60 a gallon at both Chevron and Shell on Andy Devine.
"It has been a remarkably quiet spring at the pump, perhaps even record-setting quiet as gasoline prices have seen minimal fluctuation during the normally explosive springtime," said Patrick DeHaan, senior petroleum analyst for GasBuddy, a fuel data website.
Nationwide, motorists spent $2.2 billion less for gas over Memorial Day weekend, which traditionally kicks off summer vacation, compared to 2011, when gas was $3.78 a gallon, DeHaan said.
GasBuddy found that when gas prices are less expensive, there is a greater chance for consumers to overpay. The price variance, or "spread," is generally higher during low-price cycles in any given city.
DeHaan said we're in a relative period of "tranquility and affordability" at the pump, so the data suggests Americans are at particular risk right now of overspending on gasoline.
"When gas prices are typically lower, Americans turn off their brain for finding deals," DeHaan told the Daily Miner. "The difference in prices between gas stations actually rises as prices go down."
John Paise, executive vice president of Stratas Advisors, said economic indicators such as Europe's improving economy and a counterbalance of lingering supplies point to an uptick in gas prices.
"We are poised for a rebound," the analyst told oil and gas executives during a March presentation in Midland, Texas. "We will have a production-demand crossover as the world market rebalances."
Wicoff, traveling from South Carolina, thinks gas prices will continue to decline.
"If (President) Trump gets his way with his tax proposals, everything will turn out good," he said. "You'll see prices of cars come down and (gas) mileage go up."
Oil prices plunged Wednesday after a report indicated that supply was outpacing demand, setting the stage for lower fuel prices.
The Energy Information Administration reported that U.S. crude oil inventories grew by 3.3 million barrels in the first week of June.
U.S. energy companies continue to pump oil at a steady rate to make up for reduced production from the Organization of Petroleum Exporting Countries (OPEC).
The boom in U.S. shale oil production has also reduced OPEC's power in controlling worldwide petroleum supplies.
"Increased drilling activity in U.S. tight oil basins, especially those located in Texas, is the main contributor to oil production growth, as the total number of active rigs drilling for oil in the United States has more than doubled over the past 12 months," EIA acting administrator Howard Gruenspecht said in a statement.
More like this story
SUBMIT FEEDBACK
Click Below to: