Play Turns into Massive Industry: Videogames are not just pasttimes, they are becoming a lucrative profession

Originally Published: June 12, 2017 6 a.m.
"It's not hurtful. It teaches them teamwork, comradery, dedication. It teaches them the same thing as traditional sports. Don't tell them that it's stupid."
Stephen Shackelford
Co-founder SAK Gaming
Document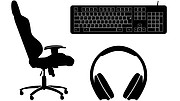 Sport. Noun. "Physical activity engaged in for pleasure."
However, that isn't the first definition of sport, according to the Meriam-Webster dictionary. The first definition is actually "a source of diversion." By this definition, there should be no debate about whether esports would fall under the normal sport category.
"I'd rather focus on what is similar, not what separates it," said Dot Esports reporter Will Patrin. "It's a medium for storytelling."
Esports have been on the radar since the late '90s when gamers wanted to find out who the best competitive players were. Around 2000, esports began to emulate traditional sports with teams and tournaments.
Then, in 2009 with the launch of twitch.tv, League of Legends and Starcraft 2, the competitive gaming world began the upward trend that would lead to today's esports environment.
"The current esports boom really begins here (2009)," Patrin said. "Esports has grown every year, and, yeah, there have been some growing pains."
The advent of technology like twitch.tv, a live streaming service, allowed competitive gamers and teams to provide real numbers to sponsors. And those sponsorships have increased yearly, becoming more widely known, Patrin said.
This technology has also aided younger generations becoming involved in esports, said Stephen Shackelford, co-founder of the Tempe-based company, SAK Gaming.
Younger people have had platforms like Twitch for the entirety of their lives.
Connecting people
This isn't just gamer culture. This is 21st-century, human culture.
A large aspect of the population plays some kind of videogame. Whether it is CandyCrush on a mobile device or a training seminar used at work, videogames are a medium that is fusing in many aspects of society, Patrin said, and they are still growing.
Shackelford said numbers suggest by the end of 2017, there will be one billion people watching esports. By the end of 2018, he suspects esports will be a billion dollar industry.
"It's exploded, that's for sure," Shackelford said.
NBA teams have developed esports divisions, and an MLB team allegedly paid $400 million for broadcast rights to some of the major esports tournaments.
"It's not so hard to believe the esports and sports line is not so clear," Patrin said. "It's developed into something more formal. Bigger names are taking it more seriously.
Shackelford said that esports is just about diving in. There are no real bars to joining the community, all it takes is time and practice.
"Any person can look at it and say 'I wanna do that,'" Shackelford said.
However, with such big tournaments as the LCS and such strong players, Shackelford wouldn't be surprised if League of Legends eventually got to the point where drafts and exclusivity begin to occur. Again, mirroring traditional sports.
Andra Goldberg, an instructor at Mohave Community College, said the MC84 computer club offers gaming events every semester that are open to the public. These events are educational for her students in the computer information system degree program, as well as fun for the community.
Goldberg said that 10 years ago, there were maybe 10 or 12 people who would show up to the gaming events, but now she gets 30 to 40 people, some of them using the computers at MCC and others bringing in their own equipment.
"There is more interest," Goldberg said. "The sophistication of the games has also increased, and the graphics are amazing."
The games
According to Patrin there are five games that are periodically the most played and viewed games. League of Legends, Counterstrike, DOTA 2, Super Smash Brothers and Overwatch – which is poised to grow the most over the years.
The biggest tournament is the LCS, which is for League. The season for League is 9 months long and leads up to a championship tournament called Worlds that combines teams into one tournament in October. The prize pool leading into Worlds is in the tens of millions. (Actual prize for Worlds)
But it isn't just about the money from large tournaments. These games have fan bases that are unlike the fan bases for traditional sports. DOTA has Internationals in August where the prize pool is entirely crowd-funded. Last year it was $20 million, Patrin said. At a tournament for Counterstrike in Poland, Patrin said about 20 million people were live streaming the event.
People tend not to be fans of esports as a whole, but rather a specific game, Patrin said.
Goldberg said one of the games she has seen at the gaming events has been World of Warcraft, an online role-playing, fantasy game.
Shackelford said being involved in the esports world is accessible to everyone. Age, where they're from, and money don't matter, he said.
"Encourage your kids if they show a strong interest," Shackelford said. "It's not hurtful. It teaches them teamwork, comradery, dedication. It teaches them the same thing as traditional sports. Don't tell them that it's stupid."
Esports is something mainstream society has been aware existed, but the extent of it surprises many. With the potential to become a multi-billion dollar industry over the next 30 years, it's important people start paying attention.
"It is what it means to be human today," Patrin said. "You see human stories. There are rivalries, there are scandals. And it's not a zero sum game. You can love basketball and esports."
More like this story
SUBMIT FEEDBACK
Click Below to:
This Week's Circulars
To view money-saving ads
For as little as $3.49*