Lions, Lizards and Lambs, Oh My: People in Kingman don't have to travel far in order to view wildlife
Originally Published: June 13, 2017 6 a.m.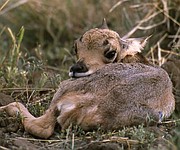 From the Hualapai Mountains to Lake Mead and the Colorado River, opportunities for viewing wildlife in Mohave County are bountiful and expansive.
You don't have to travel far. Trails at Monolith Gardens and Fort Beale will lead you to desert habitat for snakes, lizards, rabbits, quail and the occasional bobcat and coyote.
The best chance of seeing desert bighorn sheep is along the Black Mountains and Colorado River. They come down from the mountains to drink from the river about every other day, so it can be hit and miss.
Take a boat tour from Willow Beach to Hoover Dam. Even if you don't catch a sheep sighting, it's a great way to connect with nature.
"One key tip: If you want to find wildlife, you've got to find water," said Jeff Pebworth, terrestrial wildlife program manager for Arizona Game and Fish in Kingman. "It can be a stream, a spring, a creek or a livestock water tank."
Pebworth likes to get away to Topock Marsh, a great place to see waterfowl, and Bill Williams River and Alamo Lake, a riparian area full of endangered species such as willow flycatchers, yellow-bill cuckoos and yellow warblers. The newly listed Mexican garter snake is out there.
When you're out looking for wildlife, be sure to take necessary precautions to ensure your safe return home. Pack plenty of water and snacks, and wear sunscreen, large-brimmed hats, sunglasses and proper clothing. Bring along binoculars for close-up views, and a snake-bite kit for the worst scenario.
Here are five places within a short drive of Kingman where you can wallow in the wonders of nature:
Hualapai Mountains
Just a few miles up Hualapai Mountain Road lies a "sky island" with Hualapai Mountain Park and Hualapai Lodge providing the perfect setting for a wildlife viewing adventure.
The park, about 12 miles south of Kingman, encompasses more than 2,300 acres with elevations 5,000 feet to 8,400 feet, covered with pinyon and ponderosa pines, junipers and Douglas firs.
This provides cover and foliage for mule deer and elk. You'll also spot acorn woodpeckers, Steller's jays, Harris's hawks and Abert's squirrels.
Other inhabitants of the mountain range include foxes, raccoons, rabbits, chipmunks and skunks. Mountain lions roam the area, but are very elusive and seldom seen, perhaps for the better.
Raptors such as hawks, owls, turkey vultures and eagles have also been spotted in the Hualapais. A variety of snakes are crawling through the brush, including rattlesnakes, mountain king snakes and bull snakes, which can grow to 7 feet in length.
Hualapai Mountain Park has 10 miles of trails that lead to spectacular viewing areas of the desert and mountain ranges.
There's a $7 day fee for the park, which offers campgrounds and cabins for overnight stays.
Havasu Refuge
The Havasu National Wildlife Refuge provides 37,500 acres along the Colorado River for the nesting of some 318 bird species. It was established in 1941 by executive order of President Franklin Roosevelt to provide a migratory bird habitat, and encompasses 300 miles of shoreline from Needles, California, to Lake Havasu City.
The refuge is within the Pacific Flyway, a major north-south migratory route along the U.S. West Coast. Hundreds of birds stop to rest and refuel during their journeys. Many species breed during winter here.
You'll hear distinctive echoes from the Yuma clapper rail in the 4,000-acre Topock Marsh. Doves and snow geese rest in fields planted with wheat, rye and millet, and hundreds of waterfowl descend into Pintail Slough, a restored wetland.
Coyotes, foxes and bobcats cross the roads searching for rabbits and mice, and mountain lions roam the 17,600-acre wilderness area.
Colorado River
The Colorado River Nature Center is a great place to look for wildlife, as the lush wetland vegetation provides a natural habitat for a variety of wildlife, including waterfowl and migratory birds.
It's a favorite for bird-watchers, hikers and nature photographers, but again, be aware that temperatures along the river can top 120 degrees in the summer.
Mammals running around include Merriam's kangaroo rat, desert woodrat, raccoons, skunks, beavers, coyotes, cottontail rabbits and jackrabbits. There's also the desert pocket mouse, southern grasshopper mouse, cactus mouse and deer mouse.
On the reptile and amphibian side, look for the red-spotted toad, zebra-tailed lizard, tiger whiptail, Western banded gecko, desert iguana and common lizards and snakes. Watch out for Western diamondback and sidewinder rattlesnakes. Hopefully you'll hear them before you see them.
Lake Mead
This 1.5 million-acre national recreation area supports an amazingly diverse habitat of wildlife living amongst striking landscape and brilliant blue waters.
Desert bighorn sheep are some of the most intriguing animals at Lake Mead. They're wary of human contact and blend into the terrain, so sightings are truly a special event.
The mountain lion, the largest of North America's cat family, once roamed throughout the continent, but their range today is limited to parts of Canada and most of 12 Western U.S. states.
At least 19 species of bats make their home at Lake Mead. Widely known to live in caves, they can also be found in abandoned mines or tunnels. Also keep an eye out for beavers, coyotes and rabbits.
Alamo Lake
Alamo Lake Wildlife Area offers a special opportunity to experience the solitude of the desert for recreation, wildlife observation or just the pleasure of being outdoors.
Waterfowl and shorebirds that frequent the area include ducks, geese and white pelicans. Other birds that can be found are osprey and many species of migratory songbirds.
Mammals that can be found around Alamo Lake include mule deer, javelin, bobcats and wild burros.
Elevations range from 950 feet on the Bill Williams River below Alamo Dam to about 1,400 feet. The high water level of Alamo Lake is within the boundaries of the wildlife area.
More like this story
SUBMIT FEEDBACK
Click Below to: