Chillin': Kingman's downtown car show returns Saturday
Originally Published: June 15, 2017 6 a.m.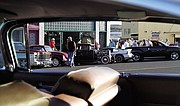 What started as a few dozen members of the Route 66 Cruizers car club gathering in a shopping center parking lot off Stockton Hill Road has evolved over the years into Chillin' on Beale Street, a car show and block party that draws hundreds of classic car and hot-rod fans downtown for a scene out of "American Graffiti."
It's a relaxing night of mingling with some 250 car and truck owners who've come from around the county and Las Vegas to share the stories and history behind their special machines.
Chillin' on Beale Street is held on the third Saturday of each month, 5-8 p.m., from April through October, with the next event scheduled for Saturday. It's a family environment with food, vendors, music and a free movie night added this year.
This month's featured movie is "Easy Rider," the 1969 motorcycle road adventure starring Peter Fonda and Dennis Hopper, showing at 7 p.m. at Beale Celebrations, 201 N. Fourth St.
Anyone is welcome to show their car, and there is no entry fee, said Gene Kirkham, who took over the event last year from co-founder Ron Geisbrecht due to health problems. A local business sponsors the Car of the Month trophy, a miniature Route 66 gas pump.
It fills the street with people and is a "pretty significant" event for downtown business, Kirkham said.
"All those people spend money downtown, not only on the night of the event, but throughout the month," he said. "It's taking off down there."
Cars with a cause
Chillin' on Beale was organized in 2009 by the Kingman Route 66 Association and Route 66 Cruizers car club to promote Kingman and to raise funds for the Cruizers' Halloween bash for Kingman kids.
Chris Durkin was president of Downtown Merchants Association at the time and worked with Tim McDonnell and the Cruizers to bring the event downtown.
"We had a couple meetings," Durkin said from Ohio, where he moved in 2012. "Of course, tourism is a big aspect in Kingman. Tim said, 'Come on down and cruise (Beale Street) like they did in the '50s.' They'd all find their spots to park."
With its wide lanes, deep curbside parking and Main Street America architecture, Beale Street is the perfect venue to host the event.
Cars and trucks, spanning decades of U.S. automobile production, line up from Third through Fifth streets, some nights spilling over to Sixth. The owners sit on lawn chairs, often in groups, taking questions from admiring onlookers.
Sometimes the show takes on a theme like "auto orphans" for cars made by companies that no longer exist or discontinued models. There's a "topless night" for convertibles, and "animal night" for Mustangs, Cougars, Impalas, Pintos and Barracudas.
Past award winners include Gary Carpenter and his 1971 El Camino; Kyle Kitting and his 1956 Chevrolet; Clarence and Betty Masterson and their 1941 Willys; and John and Linda Nietz with their 1957 Ford Thunderbird.
Promoting Kingman
It's a great way to promote Kingman and Route 66, said Scott Dunton, owner of Dunton Motors and Mr. D'z Route 66 Diner.
"The idea is to bring other people from the motels and other towns that will stay and eat and spend money," Dunton said. "It creates activity and fun. It's getting bigger and better."
Dunton said he almost always displays cars in the show, and he supports various causes with monetary donations.
Hundreds of people flood the street during Chillin's peak hours, but it doesn't necessarily translate to a bump in sales for local businesses, said Tim Schritter, owner of Black Bridge Brewery.
They take up parking spaces of potential customers who might be going to Black Bridge, Floyd's BBQ or Garlic Clove restaurant.
"I look forward to Chillin' on Beale Street. What I don't look forward to is people showing up in their nice cars and bringing their own food and drinks," Schritter said. "They're not spending a dime downtown."
The business owner said he gets a few customers on the back end coming down to look at cars, and maybe someone who didn't know the brewery existed will return for a visit during the week.
"I'm okay so long as they spend a little money downtown. It's about supporting local business," he said.
Ken Conway, a Route 66 Cruizer who's been helping to promote Chillin' on Beale Street for six years, said car owners have been told they need to work with downtown business owners to park in front of empty buildings and to patronize local establishments.
"You can't get into Floyd's (BBQ) on a Saturday night," he said.
Organizers are always looking for something new to bring a younger crowd to Chillin' on Beale Street so it doesn't die off, Conway said. The October event will take place on the first Saturday, Oct. 7, to coincide with a Route 66 tour group coming from Chicago.
More like this story
SUBMIT FEEDBACK
Click Below to:
This Week's Circulars
To view money-saving ads
For as little as $3.49*