File, Skubal selected on Day 3 of MLB Draft

Originally Published: June 16, 2017 6 a.m.
KINGMAN – Dylan File and Tarik Skubal started out as rivals during their time playing Little League.
The Kingman natives now look eye-to-eye as best friends and the friendship came full circle Wednesday when they were selected in the MLB Amateur Draft.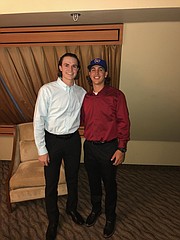 "It's awesome because looking back at it now we both have the opportunity to play in professional baseball," File said. "You can't help but wonder, maybe that's the competitive edge that we gave each other. You never know."
File was picked by the Milwaukee Brewers with pick No. 624 in the 21st round, while Skubal was selected by the Arizona Diamondbacks with pick No. 862 in the 29th round.
It's not surprising to File though, as he always knew he and Skubal had the talent to play at the next level.
"He was always the star of his team and I was star of my team," File said. "It was just kind of a fun rivalry."
Now, many years later, Skubal looks back at his time in Kingman and is appreciative of the support he still receives to this day.
"I feel like I have the city behind me," Skubal said. "It's awesome to have the support if you need it because sometimes you go through these little highs and lows and you need it in the lows more than anyone will ever know."
Skubal also received support from a fellow teammate who sent him a text when he was drafted.Skubal was at lunch with his girlfriend and her family, and the message was a surprise.
"I got a text from a kid I played with last year in Seattle," Skubal said. "And then I got a call from the area scout from up there saying 'Congratulations, we just selected you. We'll work everything out, and we'll be in touch shortly.'"
File, meanwhile, was at a draft party with his family in Utah. The Desert Hills High School alum didn't know when he was going to be selected and then before he knew it, he was a Brewer.
"I received a call probably a minute and a half before it showed up on TV," File said. "We kind of were thinking, 'Oh, they called, so it will probably be the next round.' It was almost instantly, I hung up and I was looking at my phone still and then it popped up on the TV. Everyone just kind of went crazy. It was pretty cool."
Similarly to Skubal, File received congratulatory text messages from a number of people.
"I have so many close friends here in Kingman and so many close friends in St. George," File said. "So honestly, it's just kind of given me a bigger support system. That's been really cool."
File will fly to Montana Sunday and then figure out the details of what he's going to do next. Skubal, on the other hand, doesn't know yet if he'll return to Seattle U, where he has two years of eligibility.
"I have some time to think about it," Skubal said. "... I'm going to make a decision here shortly, I would assume, once I find out more details of what is going on."
More like this story
SUBMIT FEEDBACK
Click Below to:
This Week's Circulars
To view money-saving ads
For as little as $3.49*