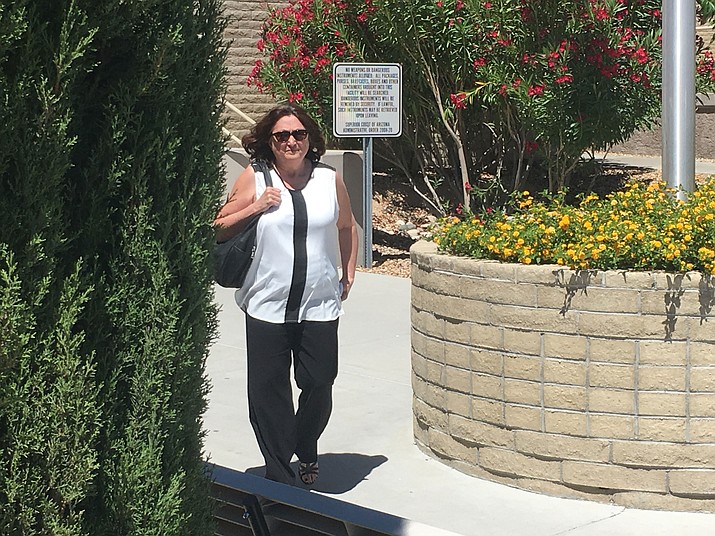 Photo by Hubble Ray Smith.
Originally Published: June 28, 2017 3:43 p.m.
KINGMAN – Diane Maxine Richards, the former City of Kingman finance worker accused of embezzling $1.1 million, has agreed to enter a plea agreement at an Aug. 25 hearing in Mohave County Superior Court.
Richards, who is free on her own recognizance, appeared in court Tuesday before Judge Billy Sipe for a status conference, represented by attorney Adam Zickerman of Flagstaff. He requested a change of plea to be heard in August, which would avoid a jury trial.
Zickerman refused to talk to the Daily Miner about the case, and asked that reporters stop calling him. He cited a previous incident in which a photographer allegedly "harassed" his client to get a picture of her.
Richards last appeared in court in May when Joseph Waters, assistant Attorney General, and Zickerman discussed the strength of their case and possible sentence ranges.
She would be facing three to nine years in prison if found guilty. She was also advised of the range of penalties should she accept a plea offer.
Richards, former budget analyst and interim finance director for Kingman, is charged with embezzling $1.1 million from the employee benefits fund over an eight-year period through the city's credit card account.
Investigators found that Richards had misused the city's credit card to pay personal expenses from 2008 to 2015, including her cell phone, utility and car insurance payments. It was also used to pay off cash advances at various Laughlin casinos.
Richards allegedly stole the money by altering the access settings and giving herself sole authority to both initiate and approve transactions, a spokeswoman for the AG's office said.
She was arrested in 2015 and charged with 23 felony counts of theft, forgery and misuse of public funds. The case has dragged on for 19 months with status hearings and evidence reviews.