Kingman North 10-12 All Stars fall to Mohave Valley

Originally Published: June 28, 2017 11:26 a.m.
KINGMAN – For many teams, a tough loss would result in players showing sadness and hanging their heads.
That wasn't the case for Kingman North Tuesday night.
Photo Gallery
Kingman North vs. Mohave Valley 10-12 All Stars June 27 Southside Park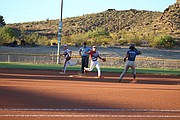 Kingman North dropped a 18-0 loss to Mohave Valley Tuesday in the 10-12 All Star District 9 Tournament at Southside Park. Photos by Beau Bearden.
They kept their heads held high, despite dropping an 18-0 loss to Mohave Valley in four innings due to the run-rule during the 10-12 All Star District 9 Tournament at Southside Park.
"We didn't go two-and-out for All Stars," Kingman North manager Casey Gordon said. "We went 2-2, so we're not going to put our heads down. We beat some good teams, and we lost to some good teams. Next year, most of these kids will be moving up to Junior/Senior besides one. They just need to keep their heads up this summer and keep working hard."
It just wasn't Kingman North's night from the start of the game, as Mohave Valley capitalized early and took a 3-0 advantage in the top of the first inning.
That deficit quickly turned into 6-0 after the second, 10-0 after the third and 18-0 going into the bottom of the fourth frame.
"Mohave Valley is a good team, they're a solid team," Gordon said. "There's no doubt about it."
Kingman North, on the other hand, struggled mightily at the plate – tallying just two hits and getting two more baserunners aboard via walks.
Kingman North's Jordan Shoopman connected on a single in the first inning, while Corbin Roddy added a hit in the third inning. While the game didn't end in favor of Kingman North, Gordon was glad the team enjoyed the All Stars experience and wished Mohave Valley the best of luck against Blythe in the championship at 7 p.m. Wednesday at Southside Park.
"The kids had fun, that's what I want to see right there," he said. "I hope Mohave Valley goes out and just beats up on Blythe. I really do. I wish the best for Mohave. They are good coaches, good guys over there."
More like this story
SUBMIT FEEDBACK
Click Below to:
This Week's Circulars
To view money-saving ads
For as little as $3.49*