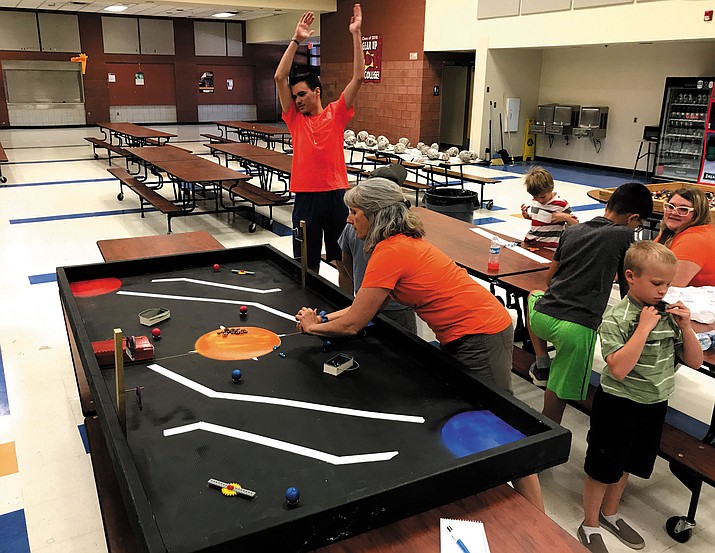 Photo by Aaron Ricca.

Originally Published: June 28, 2017 6 a.m.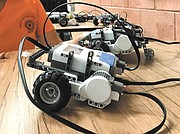 Science, Technology, Engineering and Math might be intimidating for many students, but a popular toy could help quell the anxiety.
Kingman FIRST Robotics, Team 60 coaches and high school science teachers Celeste Lucier and Jody Schanaman, along with Team 60 student mentors, are leading about 40 third- through eighth-grade students through the 2017 First Lego League Lego Camp Monday through Friday at the Kingman High School cafeteria. 
Lucier and Schanaman hope the camp will get more students engaged in STEM fields.
The students will be programming and building autonomous Lego robots that will perform coordinated exercises on a table-sized obstacle course. They'll also be conducting research to identify real world problems, learning how to create innovative solutions and create a presentation to share their findings.
"We try to keep this project simple, but also complex enough for all ages," said Lucier, a Kingman Academy of Learning science teacher.

The camp's annual theme, "Solar Storm," will be tied in with the Aug. 21 solar eclipse. The students will learn how the sun affects the Earth, such as climate and solar energy. They'll also program their robots to drive across a space-themed table and playing field, moving small objects between "planets" and "resupplying" a small space station with Lego trinkets.
The camp is more than about playing with Legos. According to Lucier, by the end of the week, everyone walks away with a sense of "Cooper-tition" – a fine balance of cooperation and competition.
"We do a lot of team building exercises," she said. "We all learn together. The teachers aren't always right."
Lucier and Schanaman began spreading word of the camp to the school districts in late April. This summer's activity has attracted 18 third- through fifthth-graders and 21 sixth- through eighth-graders, most of whom are new to robotics. The camp ran parents about $65 for the week (as opposed to about $200 in larger cities), keeping their kids occupied for between three to five hours a day depending on age.
"We kept this cost effective," said Schanaman, the Kingman High School robotics class instructor. "We want to expose STEM fields to as many children as possible."
The kids had their hands full of Lego's and other projects at the KHS cafeteria Tuesday morning. Not one of them looked bored.
"I think this is going pretty well," said fourth-grader Ronald Hulse. "The fun part is building the robots."
The day-camp tries to push the children out of their sometimes isolated mental boxes.
"This camp will help them learn interpersonal skills," Lucier said while showing what objects the robots will do on the space table. "Some kids tend to stay focused on their idea only. This will help them break out of that mindset."
Getting kids hooked on STEM can be critical to their success.
"If we can get them to like math and science now, we can point them down that direction in their future educational career," Lucier sad.
Final Lego robot competitions will begin 9 a.m. Friday for 3-5th grade and 3 p.m. for 6-8th grade inside Kingman High School at 4182 N. Bank St.
For more information, contact Lucier at 928-377-8586.