Golden Valley's George Hays never traveled to space - but he helped those who did
By
Aaron Ricca
|
ARicca2
Originally Published: March 1, 2017 6 a.m.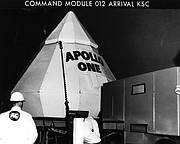 KINGMAN – A Golden Valley man has direct ties to America's space race.
George Hays, 97, was part of NASA's Apollo program in the 1960s. His primary job was supervising the installation of instrument panels and storage cabinets on the space modules, eventually working on about 16 different test and flight capsules. Hays retired as an U.S. Army infantryman before landing the space gig.
He said he was part of the Apollo 1 program where three astronauts - Gus Grissom, Ed White and Roger Chaffee - were killed in a January 1967 accident when a fire started inside the cabin during a launch rehearsal and quickly engulfed the oxygen-rich interior of their capsule. The men's efforts to open the hatch and escape were unsuccessful and all died within a minute. They were the first American astronauts to die in a spacecraft.
"They couldn't get out," Hayes said. "They didn't have a switch to push"
He said he had a feeling something like that could happen and tried to speak up.
"I warned them before it happened, but nobody did anything," he said.
Hays never did get to meet any of the astronauts in person, but said he did have to assist mission control on one occasion to radio emergency repair instructions to astronaut Buzz Aldrin.
Daughter Juanita Zamarripa, 66, of Kingman said both parents worked on the program. While George was inspecting the capsules, mother Frances (who has since passed away), soldered components for the computer boards that would go on the crafts.
"All I know is when I was in school, I got good grades from the book reports from the firsthand knowledge," Zamarripa said.
Dan Burnham, 69, worked alongside Hayes for nearly two years at the North American Rockwell facility in Downey, California. He now lives in the Florida Keys and visits Hayes occasionally during cross country trips to California.
"He was pretty knowledgeable on it," Burnham said. "I know NASA didn't want to lose him."
Neither man could take pictures of the top secret work they did. Burnham vividly described the conditions of the early spacecraft.
"When I look at a cellphone now, I realize how primitive that capsule was. It's a wonder (astronauts) made it." he said. "The confined space would've been terrible. You couldn't stand up."
The big family migrated to Kingman in the early 1970s. Hays worked for the Mohave County Road Division driving water and dump trucks until retiring.
His time with the Apollo program was unforgettable.
"We had pride in what we did," he said. "I didn't like that those boys (Apollo 1 astronauts) burned up."
"They worried about things," said Zamarripa, who added that any photos she had of that period were lost in a house fire, "But they were very proud they worked on the programs."
On top of being part of one of the most pivotal programs in U.S. history, Hays said working with the engineers and watching the Apollo modules come together were only parts of his greatest memories.
"There's a lot of danger in being an astronaut," he said. "But I think they enjoyed being in space."
He's kept up with NASA's developments over the years and realizes how costly the space program can be, but Hays also feels the rewards and discoveries of science and exploration are worth the effort.
"I'd hate for us to not keep it," he said.
More like this story
SUBMIT FEEDBACK
Click Below to: