Skubal dominates pitch by pitch for Seattle
By
JT Keith
|
KDMinerSports
Originally Published: March 1, 2017 6 a.m.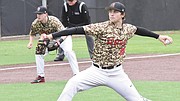 KINGMAN – Shhh pop, Shhh pop, Shhh pop.
That was the sound of the ball hitting the catcher's mitt as Kingman Academy's lefthander Tarik Skubal threw lasers. Skubal froze hitters at the plate as the umpire yelled, strike three! Wilcox batters could only shake their heads, look at the umpire, and back at Skubal as they trudged back to the dugout.
Skubal pitched a perfect game to give Kingman Academy a 1-0 victory against Wilcox in the first round of the state playoff game. He pitched seven innings, striking out 14 batters on 81 pitches on May 3, 2014.

"He's a big left-handed pitcher," said TJ Pena, a former teammate of Skubal's and now an assistant baseball coach for Kingman. "I knew he was going to go to the next level because of his drive."
With options to pitch in college, Skubal chose to continue his career at Seattle University. He loves that the school is challenging him academically and is highly rated. Skubal is a finance major and interested in the stock market. He wants to manage and invest money once his career is over.
"I'm really glad I didn't go anywhere else," Skubal said. "The coaches have helped me excel academically, as well as on the field. They have really helped me along with the transition, and it's been great. I'm glad I didn't go anywhere else. I've loved every minute here."
It took a while for him to feel comfortable at the start of his freshman season. He struggled with confidence, nerves and locating his pitches during his first four starts. Skubal's love of competition, and with the help of his pitching coach, teammates and belief in himself, he regrouped and got it going.
Skubal credits his older brother, Tyler, for introducing him to weightlifting. It wasn't until he became involved in a weight-training program year-round at Seattle University that he added muscle and grew into his body, allowing him to increase the velocity of his fastball.
"Skubal grew up in a home with an athletic and competitive older brother, Tyler," said his dad, Gary. "Tyler always pushed Tarik, and Tarik hated losing more than anything. The thing I am most proud of in sports is his focus, drive and work ethic."
This summer Skubal spent five days a week living at a hotel in Phoenix while working out twice a day to get himself in the best possible situation to return to pitching this year.
"Tarik is an outstanding young man in the classroom and on the field," Kingman Academy coach Bill McCord said. "He practically lived with me and I treated him like one of my own sons. He always gave the maximum effort in everything he did."
In high school his fastball was clocked at 85 mph, now he throws consistently between 92-93 mph, hitting a high of 96 mph. His pitches are fastball, curveball, and changeup. His fastball has a sinking action to it, and is his out pitch when he is in a jam.
Skubal has received accolades since going to Seattle. As a freshman he was named to the All-WAC second team, including being named to the Louisville Slugger Freshman All-American Team. Skubal tied a modern-day record for strikeouts in a game with 11.
"The game of baseball is a lot faster than in high school," Skubal said. "It is more competitive, more discipline and a lot harder work. You have to be dedicated to the game."
In his sophomore year on a cold day in April, he threw a weird pitch, and it ended his season. On April 20, Skubal had Tommy John surgery. His goal this season is to pitch on April 7, 2017. Right now, he is just going through the progression of throwing.
"Tarik has been incredibly regimented with his work ethic since the day he set foot on campus," Seattle University pitching coach Cribby Elliott said. "He has a skill set that is only described as professional. We see him helping us compete for another WAC championship."
Rated as a prospect in the upcoming Major League Baseball draft in June, Skubal's dream is to one day play in the major leagues. He knows he must take it one pitch at a time.
"Never doubt, work hard, and trust yourself," Skubal said. "Play and have fun."
"He was always a pleasure to be with," McCord said. "He is always willing to help others. While in college, he always keeps in touch and stops by to visit when he is in town. I fully expect him to be in MLB soon. I will always follow his career and whatever future he may have. I love this kid."
"As a dad, I think I am most proud of him as a person," Gary Skubal said.

Skubal's Seattle University team will play Grand Canyon University in Phoenix, May 5- 7.
More like this story
SUBMIT FEEDBACK
Click Below to: