ArtHub hosting reception for public Friday
Originally Published: March 2, 2017 5:59 a.m.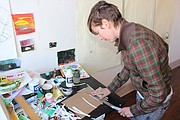 KINGMAN – Katie Knoeringer, an artist from Philadelphia, likes the remoteness of the desert and the beautiful landscapes, which she draws and paints in acrylic.
She also likes to look around downtown antique shops and garage sales for clothes with interesting colors and things like a food processor with all its attachments.
A food processor the subject of artwork? A pair of moccasins?
"I go around town and I draw from sight rather than from a photograph, so it's really important for me to be in the presence of the thing I'm drawing," Knoeringer said Wednesday at the ArtHub, where she's an artist-in-residence.
The works of Knoeringer, Henry Kunkel and Janie Stapleton will be featured during an open house from 6-9 p.m. Friday at the ArtHub, 402 E. Beale St., coinciding with First Friday in downtown Kingman. Eddie Sarfaty, a writer from New York, will do a reading.
There will be light refreshments and music by DJ Jeremiah Green.
"We just want to give people a chance to meet us and see what we do," said Stapleton, a watercolor illustrator from Petaluma, California, who was one of the first artists-in-residence at ArtHub. "It's a good place to come and get out on a Friday night."
Stapleton returned for a second residency last year and is now director of ArtHub. She makes a little money drawing pet portraits, and was drawing a series of animal Samurais, including a sword-wielding wolf, deer and rabbit, for her own "amusement" Wednesday.
ArtHub offers classes at 2 p.m. Saturday, and the open house will help the artists learn what people are looking for in the classes.
Sarfaty, a standup comedian, writer and comedy coach from New York, will be conducting this Saturday's workshop on comedy writing. He's working on a novel after writing a collection of pieces called, "Mental: Funny in the Head."
Sarfaty said he finds Kingman to be a nice change of pace from New York with a quiet vibe and beautiful scenery.
His goal when he came here in January was to not have anything take his attention away from writing. Then he discovered Black Bridge Brewery and House of Hops, a block away in either direction.
Kunkel is an oil painter from Boston who paints scenes to go with his poetry.
"It comes from different memories that served in different ways to shape me," he said. "So I take my perception now of the world with those things I've experienced from the past."
Doug Angle, president of Angle Homes, spent about $120,000 refurbishing a portion of the historic Central Commercial Building, which was built in 1917, turning it into 1,300-square-foot art gallery and studio downstairs with five upstairs lofts and two common bathrooms.
In exchange for rent, artists-in-residence teach classes and hold workshops that are open to the public.
The goal is to create an environment where talented, promising artists can share their experience with Kingman residents, bolster the local art scene and stir cultural movement in the downtown business district.
More like this story
SUBMIT FEEDBACK
Click Below to:
This Week's Circulars
To view money-saving ads
For as little as $3.49*