Kingman's barely-tapped tourism potential
Originally Published: March 6, 2017 6:04 a.m.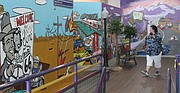 A group of investors is building a $10 million Home 2 Suites extended-stay hotel by Hilton off Interstate 40 and Stockton Hill Road to be completed by the end of the year.
Ramada Kingman is applying for approval of a helipad with the intention of operating air tours of Grand Canyon and Hoover Dam, hopefully by summer.
Grand Canyon West, with its world-famous glass Skywalk 4,000 feet above the canyon floor, surpassed 1 million visitors for the second year in a row.
And a congressman from Illinois recently introduced a bill that would designate Route 66 as a National Historic Trail.
Maybe the idea of bringing more tourism business to Kingman isn't as far-fetched as naysayers would have you think.
Route 66, commissioned in 1926, in many ways is the 20th-century version of the historic trails pioneers blazed to settle the West, said Jim Hinckley, Route 66 author, historian and promoter of tourism initiatives in Kingman.
"As vital as Route 66 is as a component in the development of tourism and resultant economic development, we should not be myopic," Hinckley said. "The American Southwest, specifically the Grand Circle, is a primary tourism destination. Kingman sits on the west that, as well as one of the most scenic segments of Route 66.
"What we don't have is an understanding about the importance of seeing Route 66 as a linear community, or apparently … even a great deal of interest in developing tourism as a component of economic development."
Event Marketing
The city of Kingman is working with organizations such as the Route 66 Association of Kingman, Route 66 Cruizers, Kingman Downtown Merchants Association and Kingman Area Chamber of Commerce to promote events that attract out-of-town visitors.
Kingman tourism director Josh Noble met with representatives from the Route 66 Association and Route 66 Cruizers in January to coordinate marketing and promotion for Chillin' on Beale Street Car Show and Block Party, the classic car and hot rod show held one Saturday of the month from April through October.
The Cruizers are working on a special event in October to coincide with the Route 66 Motor Tour.
Hinckley writes a regular blog for the Promote Kingman Facebook page developed by marketing executive Steve LeSueur. More than 122,000 people visited the site between Dec. 9 and Jan. 9, and the goal is to reach 1 million, he said.
The initiative promotes upcoming events and nearby attractions such as Grand Canyon Caverns, Hoover Dam and Grand Canyon West.
"The goal is to ensure that there is an awareness of Kingman marketing opportunities," he said.
Hinckley was retained as a consultant for filming an episode of a nine-part series on Route 66 that was aired on the French edition of the Canadian History Channel. The episode focused on Sitgreaves Pass in Oatman and Grand Canyon Caverns.
A pilot program is in the works for a BBC show about Route 66 in the Southwest, and a Czech Republic documentary about bicycling Route 66 is scheduled for release this month.
Mother Road
"Spanning nearly a century, Route 66 has been a crucial transportation artery traveling through the heartland of America," said U.S. Rep. Darin LaHood, R-Ill., who co-authored the bill to make Route 66 a National Historic Trail with U.S. Rep. Grace Napolitano, D-Calif., a senior member of the Transportation and Natural Resources committees.
The highway has provided jobs and opportunities and has served as a "powerful economic development tool" for every state it runs through, as well as providing "timeless memories" for travelers, he said.
Bill Thomas gets it. He's economic development manager for Logan County, Illinois, and was instrumental in recreating and reopening the Palms Grill Café, built in 1934 on Route 66 in the small town of Atlanta, Illinois. It took $500,000 in public-private partnerships, grants and donations to bring the café back to life.
Prior to the café reopening in 2009, Atlanta saw practically no tourists, Thomas said. That year, four bus tours stopped by. Last year, there were 51 bus tours.
"Any place along Route 66 has the opportunity to do the same thing we did in Atlanta," Thomas said in a phone interview with the Daily Miner.
"It's simply a matter of learning the basic principles to leverage Route 66 for economic purposes.
"You have to work them. Specifically in Atlanta, folks who travel 66 are interested in experiencing and reliving the road like it used to be. The more you provide an authentic experience, the more they'll spend money and time in your town."
It's not all about old folks reliving their past, Thomas added. Millennials want a unique experience in their travels, and "we can offer that in spades," he said.
Promoting Kingman, online and around the world
KINGMAN – The Promote Kingman initiative is using social media campaigns to market Kingman and has reached 100,000 hits a month, according to website developer Steve LeSueur.
One of the initiatives is to have a free movie night in conjunction with Chillin' on Beale Street, featuring films related to Kingman and Route 66.
Other events promoting Kingman:
• Tour companies from Australia and New Zealand will participate in the Route 66 Fun Run May 5-7. Australian TV personality Mark Fletcher, with syndicated shows in Australia, New Zealand and United Kingdom, will host a Route 66 tour in the spring.
• Dries Bessels of the Dutch Route 66 Association, a Walk of Fame inductee who was grand marshal for the 2016 Andy Devine Days Parade, will be in Kingman on May 16 serving as a guide for U.S. Bikers, a Dutch tour group.
• The German Route 66 Association is hosting another tour with a scheduled stop in Kingman. Journalists from several German media outlets will participate.
• Adventure Caravans is coming to Kingman for two days in October. They'll visit the Route 66 Museum and Powerhouse Visitor Center, dine at local restaurants and tour downtown.
• The Czech Route 66 Association is returning for another tour and will stop in Kingman for a photo opportunity at the Route 66 Walk of Fame.
• Aimee Awonohopay of the American Indian Alaska Native Tourism Association is working with the Route 66 "Road Ahead" initiative on economic development for tribes along Route 66.
• A vintage military vehicle convoy will travel Route 66 and stop overnight in Kingman on Oct. 9. A New Zealand tour group will be here the same night with pre-1950 vehicles.
More like this story
SUBMIT FEEDBACK
Click Below to: