Two men attack KRMC ER doctors in separate incidents
Originally Published: March 7, 2017 6 a.m.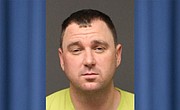 KINGMAN – It was a violent Saturday for doctors and their staff at Kingman Regional Medical Center's emergency room, where separate incidents of aggravated assault on a health care worker led to the arrests of two men.
Aurelio Julian Colmenares-Nery, 18, of Kingman was arrested early Saturday morning at the hospital on felony charges of aggravated assault on a health care worker and a police officer, along with threatening and intimidating physical injury.
According to the police report, Colmenares-Nery grabbed an emergency room doctor by the throat and began to choke him, and threatened to kill a nurse and her family.
Police were called to the scene and, during the investigation, Colmenares-Nery allegedly tried to kick a police officer and spit on him. He was reportedly combative as he was placed in a police vehicle, kicking the doors and windows of the vehicle and an officer.
The man was restrained by officers and booked into Mohave County jail without further incident.
Later that day, police arrested Keith Alan Fisher, 34, of Kingman, for the same felony charge of aggravated assault on a health care worker.
They were called to KRMC for a disorderly person who was physically fighting with emergency room staff. The investigation found that Fisher allegedly punched a doctor in the face and hit him several times in the back of the head and shoulder area.
Another patient in the emergency room and hospital staff intervened in the fight and gained control of the suspect until police arrived. Fisher was booked into Mohave County jail once he was medically cleared for release.
More like this story
SUBMIT FEEDBACK
Click Below to: