City Council Approves Milling Pothole-Damaged El Travatore Hill on Andy Devine
Get Your Fix on Route 66
By
Aaron Ricca
|
ARicca2
Originally Published: March 9, 2017 5:59 a.m.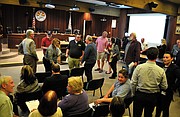 KINGMAN – A tiny but significant step towards road repairs was given the go-ahead at Tuesday night's Kingman City Council meeting.
The issue wasn't addressed until the end of the meeting, but it definitely earned everyone's attention.
Council gave overwhelming support to City Street Superintendent Jack Plaunty and the street department crew to begin milling the existing one to two inches of heavily damaged asphalt on Route 66 between Hall and Eighth streets on El Trovatore Hill. The city will work with Bullhead City paving contractor McCormick Construction.

"This road is deteriorating faster than we can repair it," Plaunty said.
Milling the top layer of asphalt will reduce the impacts of existing potholes and leave the surface slightly rougher than the current surface, but safe and smooth enough for vehicles and bikes. The road will be restriped after milling is complete.
"That top section is what's failing," Plaunty said in a Wednesday phone interview.

The cost is estimated at slightly more than $100,000. Pending traffic control, bonding and insurance costs, work is tentatively scheduled to begin March 27. The asphalt will not be replaced until relatively minor improvements to sidewalks along Andy Devine Avenue are completed. The work is a requirement of the Americans with Disabilities Act.
Repair revenue could come from potential increases to the 0.50 percent gas tax increase that was adopted in October of 2015. The current tax is slated to sunset Dec. 31. The council made a unanimous decision to hold a public hearing to determine the appropriate gas tax, known as the transaction privilege tax, rate. Anything above 2.5 percent will be dedicated to transportation and road maintenance.

"I believe the city's current tax rate should be made permanent," said Kingman resident Doug Dickmeyer. "In fact, if needed, increased."
The TPT has already been used for technology, street, equipment and government programs.
In other council news:
• YESCO, Inc. has completed five concept drawings for the proposed Beale Street Arch to be built near Locomotive Park and Dick Grounds Field. How the council will pick a final design may be left to the public, but the process was tabled until after an April town hall meeting takes place.
• Digital marketing for the community is getting worldwide attention. Liza Noland, president of Ignite Brand Marketing, gave a presentation on how many people have been looking at and responding to the city-funded Kingman Circle website and app. More than 3 million people worldwide are now aware of the local activities, services, nightlife and tourist attractions, according to Noland.
The city pays $45,000 annually for the marketing campaign.
More like this story
SUBMIT FEEDBACK
Click Below to:
This Week's Circulars
To view money-saving ads
For as little as $3.49*