Dogs, as man's best friend, want to give a whole lotta love
Originally Published: March 10, 2017 6 a.m.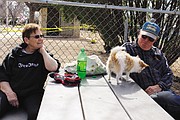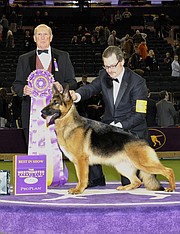 The recently released movie, "A Dog's Purpose," tells a heartwarming story about a dog who discovers the meaning of his own existence through several lifetimes and different owners that he teaches how to live, love and laugh.
That's what Lucy, a 3-year-old long-haired Chihuahua, does for her owner, Chelan Nazaroff.
"She keeps me alive," Nazaroff said as Lucy sniffed other dogs at Lewis Kingman Park on a weekday afternoon. "You raise your kids, you retire and raise your grandkids and then they get old. You need somebody. Human beings were never meant to be alone.
"She's the best thing that ever happened to me. She gives me someone or something to take care of."
Some dogs are meant for working, warding off predators at the ranch and patrolling the perimeter of a business or home. Others are bred for hunting, retrieving and racing.
Rumor, the German shepherd that won Best of Show at the 141st Westminster Kennel Club Dog Show, captured the awe of millions of TV viewers, and we know the only shepherding she'll be doing is with her pups in the breeding kennel.
For the most part, dogs today have it pretty doggone easy.
They're eating well, sleeping in a warm bed (often with their owners), playing in the park and riding in the car – hopefully to the grocery store, not the vet.
Soul Searchers
Henry Martin saw a YouTube video of a Labrador retriever that would hug people. He believes dogs have an innate sense about whether people like them or not.
"They have the ability to see the souls of people," Martin said with 10-year-old Daisha resting on his belly at the dog park and 3-year-old Angel lying nearby. "They can sense your feelings. When you're happy, they're happy. When you're sad, they're sad. They can relate to people's feelings."
Martin said his dogs keep him active and give him a purpose in life. And they show unconditional love.
Charlotte Kiffer of Dolan Springs couldn't imagine life without her three dogs, all rescues. They help her better understand the world around her and the role each animal plays in our lives.
"They make me happy. They just put me at ease," Kiffer said during a visit to Wright Veterinary Service in Kingman, where her dog Sammie Sue was having X-rays. "Sitting on my lap at night and stroking them, they're content and it makes me content."
Her husband, Walt, sees the dogs as more work. He's more of a cat person, anyway, and they have seven household cats along with three dogs. Cats also have a purpose, he said.
"Companionship, humor, because they've each got their own little personalities," Walt said.
Rescue Dogs
"I think our society is pet-oriented," Charlotte added. "We also are a caring breed, as you look at how many people adopt pets from rescue shelters. Many dog owners I've met in the vet's waiting room have rescues."
Jimmy Jones is one of those. His Australian shepherd-collie mix, Murphy, "kind of watches the yard," at least better than his two Jack Russell terriers, which are primarily lap dogs, he said.
"They're just companions. It's quite an expense, but it's nice to have them," Jones said as he waited with Murphy in a truck outside Wright Veterinary. "Just so many end up with no home. It's really sad. People get puppies and don't want them when they're grown. That's the bad part."
Jones said he doesn't exactly know Murphy's purpose, but he knows his own purpose was to save the dog from being put down.
Nancy Murphy nabbed Stitch, a Shi-Tzu, from a friend's backyard. His fur was matted and he needed health care, so she took him to the vet and had him cleaned and checked up.
"He has a good life," she said after six years of caring for him. "He goes camping and walking and rides in the sidecar (of her husband's motorcycle) with me. He loves to travel. I think dogs keep people alive."
More like this story
SUBMIT FEEDBACK
Click Below to: