Deputy Kerry Schanaman's memorial attended by hundreds
Community says goodbye to a kind servant
Originally Published: March 12, 2017 6:40 a.m.
KINGMAN – The Mohave County Sheriff's Office held a public memorial at Kingman High School for Kerry Wayne Schanaman that was attended by a large crowd.
Schanaman was born Jan. 9, 1960 and passed away March 1.
He served the Kingman community for many years in the Mohave County Sheriff's Office, including as the School Resource Officer at Kingman High School. He also touched many in the community through his work in youth programs.
The service included several speeches, a slideshow, a flag ceremony and honor guard. Father Leonard Walker gave a prayer. All spoke of Kerry's kindness and service to community and kids.
MCSO Sheriff Doug Schuster wished to thank the Kingman Police Department for providing the honor guard and the Kingman Fire Department for providing bagpipes.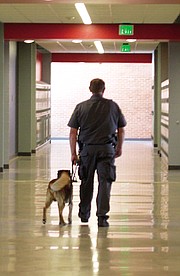 "Everything went well. It's a very hard day for the law enforcement family. I'm very humbled and grateful to be able to provide a memorial such as this for one of our own," the sheriff said.
Schuster presented a flag to Kerry's widow, Jody Schanaman, a veteran of more than 30 years at MCSO herself, who has worked as a Dispatch Supervisor. She wished to thank the community, KUSD, the Sheriff's Office, Kingman Hospice, Kingman Cancer Center and everyone else for their tremendous outpouring of support.
Bryant Scatena, Kerry Schanaman's cousin, spoke at the ceremony about the life lessons, hard work, kindness and humor he experienced growing up with Kerry.
Afterward, he noted, "I would hope that people will continue on his legacy of helping out, taking care of those in our community, and teaching life lessons like I was taught (by Kerry)."
More like this story
SUBMIT FEEDBACK
Click Below to: