Hurricane Matthew victims find only hard luck
Couple settles with landlord on service dog, septic conflicts
Originally Published: March 15, 2017 5:57 a.m.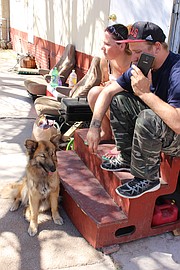 KINGMAN – It's been a rough go for Elizabeth Pine and her boyfriend, Tony Osborne, since Hurricane Matthew destroyed their home last year in Florida, leaving them bouncing from state to state and staying with relatives.
They came to Kingman in January and rented a trailer at Coyote Canyon Mobile Home, and now they're being evicted because of Pine's German shepherd service dog, Princess.
Pine showed paperwork that certifies Princess as a trained service dog, alerting the diabetic woman when her blood sugar is outside its high-low normalcy levels.
They received a notice of immediate eviction from their landlord, Cindi White, who lives in North Dakota and owns the trailer park at 475 E. Windsor Ave.
"Their attorney said I needed a doctor's note. I looked it up online and you don't need a doctor's note," Pine said.
In the midst of the eviction process, the couple was accused of causing the septic system to overflow by doing continuous heavy loads of laundry. The sewage was tinted blue-black and had a detergent scent.
"We don't have a washing machine," Pine said. "We got back from a trip to L.A. and it was flooded."
The Mohave County Environmental Health Division was contacted about the sewage issue at Coyote Canyon trailer park, and inspectors visited the site Monday.
They confirmed the complaint and issued a 24-hour notice to fix the problem, said Becky Bramlett, Environmental Health supervisor.
"At this point, our main concern is abating the discharge of sewage into the ground and cleaning the contaminated areas," Bramlett said. "If this septic system needs to be replaced or repaired, the owner will need to obtain permits through Development Services before we can close the complaint."
Bramlett said she was told that the septic tank was being pumped Tuesday, and she had yet to hear if the system is failing or if there was another reason for the backup.
White, contacted in North Dakota by the Daily Miner, refused to comment and referred questions about the eviction to her attorney.
Calls to White's husband, Wesley, who manages the Kingman property, regarding the septic issues, were not returned by deadline.
"Everywhere I've lived, I've never been discriminated against, evicted or anything," Pine said. "They won't even let me have a service dog that is registered."
Osborne contacted attorney Timothy Finn of Community Legal Services who worked out a settlement with the landlord that would return the couple's $250 deposit plus about half the $400 rent for March.
Pine said they'll use the money to get a motel room until her next disability check arrives, and then the couple will probably head back to Jamestown, New York, where Osborne has relatives.
More like this story
SUBMIT FEEDBACK
Click Below to: