Joshua trees: An iconic, though unusual, neighbor
Originally Published: March 19, 2017 6 a.m.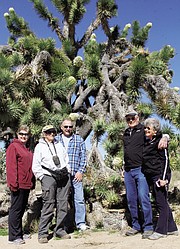 One of the most iconic and unique symbols of the Mojave desert is the stately and unusual looking Joshua tree. The Joshua tree (scientific name: yucca brevifolia) isn't actually a tree in the usual sense, but is instead a type of large yucca. It is tall enough to create impressive "forests" throughout the desert landscape.
It is confined mostly to the Mojave Desert, including parts of Arizona, Nevada, California and a sliver of Utah between 1,300 and 5,900 feet in elevation.
North of Kingman, starting around Dolan Springs and spreading north to Meadview and beyond, is a large, extensive Joshua tree forest. There is an especially impressive, dense stand of trees known as the Grapevine Mesa Joshua tree forest, which consists of about 3,200 acres of Bureau of Land Management land. The larger surrounding forest consists of about 44,000 acres. There is an informational kiosk about Grapevine Mesa at the junction of Pierce Ferry Road and Diamond Bar Ranch Road, which leads to Grand Canyon West. Grapevine Mesa is a National Natural Landmark, one of only ten in Arizona. It is home to the densest stand of old, tall Joshua trees in the U.S. and is considered to be the best existing display of this species. It is also designated an "Area of Critical Environmental Concern." The forest is sensitive to changing climates, rainfall, and other factors. The only other Joshua tree forest in Arizona is found south of Wikieup and north of Wickenburg along U.S 93 (the Joshua Tree Parkway of Arizona).
The BLM monitors Joshua trees on federal land as part of range management, but it's a big job in a lot of wild desert country. However, they are not alone. The Friends of the Arizona Joshua Tree Forest is a "dynamic volunteer organization dedicated to documenting, preserving and protecting the beauty of the Grapevine Mesa Joshua Tree Forest in northwestern Arizona." Its Board of Directors works with the Kingman BLM Field Office to protect the forest, monitoring it for any harmful changes such as illegal roads and filing monthly reports with the BLM. The group began in 2010 because of an illegal road created from Smith Road to Diamond Bar Road. One person driving in the desert can create tracks that others follow and soon a road has appeared in sometimes fragile desert landscapes. Twenty-five people, from local citizens to people living as far away as Virginia, came to help revegetate the area and return it to a more natural state. The Friends of the Joshua Tree Forest continues its work to this day, striving to educate the community on respectful, responsible use of the forest. The Joshua tree forest offers many uses, from hiking, biking, horseback riding, riding ATVs on legal roads, photography, and more. It also offers a "dark sky" at night with few artificial lights, which results in better star-viewing than one would see closer to town.
Friends of the Arizona Joshua Tree Forest says the community is generally very protective and supportive of the Joshua trees. The group would love to have more volunteers. They are seeking help with administration tasks, picking up trash, possible education and outreach, bird identification and monitoring, photography, and other things. The group would also like someone (perhaps a student working towards a degree) to help them with an environmental education program.
"If you take down a tree it won't grow back in our lifetime," Sharon Baur said. "These trees are important for us as human beings and important for Mohave County."
She said that people come from all over to hike the forest. People rent places in Dolan Springs and spend the week hiking.
According to Sue Baughman, who helped create a trail system around Dolan Springs, numerous people not only use the trails but come on "Volunteer Vacations", where they pay to help build trails and spend time in the Joshua trees. According to the Bureau of Economic Analysis, Personal Consumption Expenditures by Type of Product, 2010 data, Outdoor Recreation was the third highest category of spending (at $646 billion) in an American household after Financial Services and Insurance and Outpatient Health Care.
"People need the open spaces," Baur said. "They need quiet places to go. (They need) air quality, water. These (Joshua tree forests) are accessible to all."
The Friends of the Arizona Joshua Tree Forest hopes people will go out and enjoy the forest in the least invasive way they can, which includes staying on legal roads, picking up trash, and other basic care of the land.
Trees may grow up to almost 50 feet tall, consisting of numerous branches with long, dagger-like evergreen leaves that give its spiky appearance. The trunk is fibrous and lacks any "tree rings," which could help in quick age determination. Its roots can reach down to about 36-feet deep, but the tree is susceptible to toppling if nudged with enough force.
The tree grows an average rate of 3 inches per year for its first 10 years, then slows to about 1 ½ inches per year afterwards. Joshua trees have large, showy flowers in the spring that are pollinated by the Pronuba, or yucca moth. The forest contains a diversity of wildlife species, including the desert night lizard that is found only in Joshua tree (and large yucca) habitat.
Joshua trees are not considered threatened or endangered and consequently are not protected from lawful clearing of private land.
However, they are considered "Salvage Restricted Protected Native Plants" per Arizona state law. (Article 11, consisting of Sections R3-3-1101 through R3-3-1111 and Appendix A, recodified from 3 A.A.C. 4, Article 6 at 10 A.A.R. 726, effective February 6, 2004 (Supp. 04-1). According to Elno Roundy, a retired range manager for the BLM, if individuals desire to salvage Joshua trees from private land, they need a $6 permit from the Arizona Department of Agriculture to legally transport the plants. He said that the recent clearing of Joshua trees on private land near Dolan Springs was all legal and the landowner followed proper protocol.
Landowners wishing to clear Joshua trees from their land, or people looking to salvage them, need to contact the Arizona Department of Agriculture. For those interested in planting Joshua trees on their property, Roundy said that many landscapers have Joshua trees for sale. He personally recommended the Blue Diamond Nursery near Las Vegas.
For more information on the Grapevine Mesa Joshua tree forest or volunteering to help monitor and protect the trees, contact Friends of the Arizona Joshua Tree Forest at info@joshuatreeforest.org or visit their website at http://joshuatreeforest.org. Its mailing address is Friends of Arizona Joshua Tree Forest, P.O. Box 613, Meadview, AZ 86444. For information on the Dolan Springs Trail System, call Mohave County Parks at 928-757-0915.

More like this story
SUBMIT FEEDBACK
Click Below to: