Eight-vehicle pileup south of Hoover Dam leaves 2 dead along with their dog
Originally Published: March 21, 2017 5:08 p.m.
Updated as of Wednesday, March 22, 2017 5:51 PM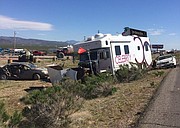 KINGMAN – Two people and their dog died in an eight-car pileup on northbound U.S. Highway 93 Tuesday afternoon after a vehicle pulled onto the highway in front of an 18-wheeler, a spokesman for the Arizona Department of Public Safety said.
The first accident happened at 12:24 p.m. when a vehicle failed to come to a complete stop at a stop sign at the White Hills Texaco and pulled in front of a tractor-trailer that was towing another tractor-trailer, Arizona DPS Trooper Kameron Lee said.
The truck driver swerved to avoid a collision, causing the tractor he was pulling to overturn.
That led to a chain reaction of crashes when cars started slowing down to avoid parts and debris on the highway. An RV could not slow down before striking a white Toyota, killing the driver, passenger and dog.
Two other drivers involved in the wreck were transported to a hospital in Las Vegas by ambulance and one by helicopter.
U.S. 93 to Las Vegas was closed for about four hours, and drivers were diverted through Bullhead City and Laughlin to Las Vegas on U.S. 95.
Lee said the wreck is being logged as two separate incidents.
The portion of U.S. 93 from Dolan Springs to Hoover Dam has been identified as one of many "hot spots" for traffic fatalities by the Arizona Department of Transportation, which ironically held a meeting Tuesday in Kingman to get public input on traffic safety in the area.
"What it comes down to is 94 percent of all collisions in the state are driver error," Trooper Lee said. "The stop sign is there for you to stop and yield to traffic. For whatever reason, this person did not see an 18-wheeler coming. Maybe they were distracted, I don't know."
Lee said people entering onto U.S. 93 from either direction need to stop and look both ways, especially coming onto a highway with vehicles traveling 65 mph, often higher.
The force of a 4,000-pound car being hit by a truck weighing 24,000 pounds or more causes some "pretty nasty collisions," Lee said.
DPS troopers are out there making traffic stops, and they're aware of the need for stepped-up enforcement on some of Mohave County's rural highways, but staffing is still down from cuts made during the recession, Lee said.
"We're trying to hire new troopers, but it takes time," he said. "We have people retiring and we're still catching up from the hiring freeze."
More like this story
SUBMIT FEEDBACK
Click Below to: