Kingman: Veterans' families don't always know where to turn
By
Aaron Ricca
|
ARicca2
Originally Published: March 21, 2017 6 a.m.
U.S. military veterans are due proper honors when they pass, but getting those honors can be tricky in a town far from a major military installation.
According to Military.com, the rendering of military funeral honors for an eligible veteran, free of charge, is mandated by law. An honor guard for the burial of an eligible veteran shall consist of not less than two members of the Armed Forces – which includes the Army, Navy, Air Force, Marines and Coast Guard.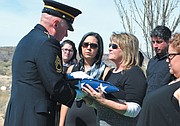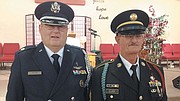 One member of the guard shall be a representative of the military branch of the deceased veteran. The honor guard will perform a ceremony that includes the folding and presenting of the American flag to the next of kin and the playing of taps.
When available, taps will be played by a bugler; however, there are so few buglers available that the military services may choose to provide an electronic recording of taps. The veteran's military branch representative will present the flag.
A branch representative isn't always available in Kingman. That's where Air Force Chaplain Lt. Col. Paul Pitts and retired U.S. Army Sgt. 1st Class Lee Elder come in. Pitts said they perform services throughout the county, helping with both the military honors and funeral services themselves.
"I have a heart that every veteran be honored," he said. "There's been times where I've attended a service and the family didn't know (about the honors program), so I took the folded flag and handed it to the next of kin."
He said veteran service organizations such as the Veterans of Foreign Wars and American Legion used to handle honors at local services, but due to the aging membership of those organizations, their participation has dwindled.

"Those have gone by the wayside," Pitts said. "They no longer have the personnel for rifle teams or flag detail."
He said the Kingman Marine Corps League has a small contingent that occasionally helps out, but with proper notice, he can try to get honor guard teams from Las Vegas or San Diego. There are military units from almost all branches in Las Vegas and Phoenix, but those area services take priority.
The Funeral Home
Funeral homes can get the process rolling.
Jamie Sutton-Zorn, funeral director at Sutton Funeral Home, is the link between the families and the respective branches that will provide military honors. She has the necessary paperwork and communicates with the Department of Veterans Affairs and area Honor Guard teams. The one thing a family needs is the veteran's discharge papers.
She said the funeral home will provide a flag for the family, has the paperwork for military headstones and coordinates with area cemeteries for the burial plot or niche for the urn.
"The VA doesn't pay for the funeral," she said of one of the biggest misconceptions about the services.

According to the Department of Veterans Affairs, veterans buried in a private cemetery may include a government headstone, marker or medallion, a burial flag, and a Presidential Memorial Certificate at no cost to the family.
Some Veterans may also be eligible for Burial Allowances. There are no VA benefits available to spouses and dependents buried in a private cemetery.
Sgt. 1st Class Shawn Fidler and Sgt. Nick Gonzales of the Nevada Army National Guard's Southern Nevada Honor Guard Team drove from Las Vegas to Kingman March 10 for the funeral of former Arizona Army National Guardsman Roger Esquerra.
Fidler said they'll perform honors for anyone who has an honorable discharge – retirees to service members barely out of boot camp. Esquerra served three years as a fire team leader.
The Nevada soldiers covered when the Arizona honor guard couldn't make the four-hour drive from Phoenix due to the immense load of full honors funerals (flag-fold, bugle and rifle team).
"We offer to help as needed," Fidler said.
The services don't always take place at a cemetery.
"We've done backyards, parks, people's homes," Fidler said. "We even did one in a casino once."
Gonzales has been with the program for eight years and Fidler 13 months.
"It's really fulfilling to be able to pay respects to our veterans," Fidler said.
Nearby Military Cemeteries
Mountain View Cemetery in Kingman doesn't reserve any one specific section for veterans (there are five different areas), but with VA approval of funeral home paperwork, provides military headstones and markers.
The nearest Department of Veterans Affairs state and national cemeteries are: Southern Nevada Veterans Memorial Cemetery in Boulder City; Arizona Veterans Memorial Cemetery at Camp Navajo near Bellemont; Prescott National Cemetery; and the National Memorial Cemetery of Arizona in Phoenix.
According to the Department of Veterans Affairs, a veteran's spouse, widow or widower, minor dependent children, and under certain conditions, unmarried adult children with disabilities may also be eligible for burial at a military cemetary.
Pitts welcomes those living locally and wanting a service to call him at 928-208-9743 or by email at board1@javc.org.
More information on eligibility for burials and memorials can be found at www.va.gov or by phone at 1-800-827-1000.
Funeral Honors Eligibility
• Military members on active duty or in the Selected Reserve.
• Former military members who served on active duty and departed under conditions other than dishonorable.
• Former military members who completed at least one term of enlistment or period of initial obligated service in the Selected Reserve and departed under conditions other than dishonorable.
• Former military members discharged from the Selected Reserve due to a disability incurred or aggravated in the line of duty.
More like this story
SUBMIT FEEDBACK
Click Below to: