Overdose Antidote: Kingman Police first in state to implement life-saving program
By
Aaron Ricca
|
ARicca2
Originally Published: March 28, 2017 6 a.m.
It's no secret heroin and opioid overdoses are a problem in Kingman and now the Kingman Police Department has a tool to fight it.
KPD was the first law enforcement agency in Arizona to use Naloxone (Narcan), an opioid blocker used for the complete or partial reversal of heroin and opioid overdose, and since October have used it three times – twice in one day.
"We have seen a significant increase in heroin and opioid overdoses," said Deputy Chief Rusty Cooper.
More than 60 of KPD's staff including Chief Bob DeVries, Cooper, all sworn officers and certain other staff members have been trained and certified to administer the drug. The Kingman Fire Department and AMR paramedics and EMTs, as well as Kingman Regional Medical Center, have been using it for years, but KPD got on board in 2015 after DeVries attended a police chief conference and learned about other agencies using the Narcan program.
Arizona had the 15th-highest drug overdose rate in the nation in 2014. Opioids were among them and include legally prescribed pain medications (methadone, hydrocodone, morphine) as well as illegal drugs such as heroin. Narcan blocks the effects of opioids, specifically after an overdose. It can be administered intravenously or by nasal spray. The effects last about a half-hour, enough time for first responders to get an overdose patient to a hospital.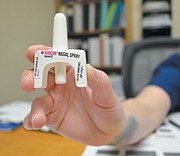 $3.6 million grant
Last year, Mohave County received a $3.6 million federal grant from the Center for Disease Control to battle and educate the public about opioid addiction. KPD has been using Racketeer Influenced Corrupt Organizations funds (money generated from law enforcement activities that result in asset forfeiture proceedings) to supply the force with 25 Narcan kits at about $100 a pop (the Narcan runs about $75 a box and the plastic kits $25).
The police cruisers, evidence room and school resource officers have a lunchbox-sized case containing latex gloves and a box of Narcan nasal spray. The officers can also use syringes to administer the drug, but let the paramedics do the poking.
KPD staff went through Narcan training sessions in August and February. The classes were piggybacking on both CPR and first aid training, so Narcan instruction fit right into the curriculum.
"We felt it was important to get this into the field," Cooper said.
The staff was trained on how to use the 4 milligram nasal spray and what symptoms to look for with a potential overdose victim. Some symptoms include unconsciousness, cold, clammy skin, constricted pupils and the big giveaway – drug paraphernalia such as syringes and the drug itself.
"Our officers can quickly determine if opioids are involved," Cooper said. He added that Narcan only works for heroin and opioids – not alcohol or methamphetamines, two other widely abused drugs in the county.
Wake up
After Narcan is administered, unconscious victims usually wake up within three minutes.
"It's a complete 180," Cooper said. "If they don't wake up, we just administer a second dose in the other nostril."
There are side effects, which are rare. Since Narcan blocks brain receptors from opium effects, the biggest side effect is withdrawal, to which overdose patients may panic or vomit.
"Our officers are trained to watch for that," he said.
KPD is often the first on the scene of an overdose, followed by Kingman Fire Department and American Medical Response crews. KPD policy dictates all overdose patients are taken to KRMC for follow-up treatment.
Fatalities
Heather Miller, KRMC Trauma Program Manager and EMS Coordinator, said in 2016 there were five fatal opioid related deaths in the Kingman and Golden Valley areas. There were also 17 nonfatal opioid related outpatient emergency visits and 12 nonfatal inpatient visits. As for heroin, Miller said KRMC is working on better tracking measures.

Overdose treatment measures vary.
"They can go from observation and discharge within a few hours to being admitted to ICU on a Narcan drip," Miller said. "It depends on the severity of the drug."
Despite the dangers associated with opioid overdose, Narcan can only be obtained by prescription and is not available for over-the-counter purchase.
"We do stock and dispense it," said Chris Proffit, owner of Uptown Drug. "We see several prescriptions a month."
He added many pain management physicians will prescribe Narcan along with any opioids.
Neither Mohave County Sheriff's deputies nor Arizona Department of Public Safety troopers carry Narcan.
"What's exciting for us is that we're the first law enforcement agency in the state to use it," Cooper said. "We couldn't have done this without the help of KRMC and the Kingman Fire Department."
"It's all about saving lives," he added. "We're giving these people another opportunity to make good life choices and hopefully get the help they need."
More like this story
SUBMIT FEEDBACK
Click Below to: