Dancing Improves Mental Health
Originally Published: May 4, 2017 6 a.m.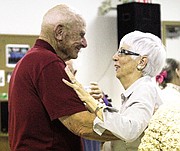 It's universally recognized that cognitive activities such as reading, playing board games and working crossword puzzles will help keep your brain sharp as you grow older.
You might also want to throw on some Chuck Berry records and get up and dance.
Dancing improves brain function on a variety of levels, according to a number of psychological and neurological studies.
Dorothy Cardeccia, 98, gets her groove on almost every Thursday afternoon at Kathryn Heidenreich Adult Center, dancing to country music played by a volunteer band of talented musicians.
She's been dancing since she was a teenager attending Saturday night barn dances in Michigan.
Cardeccia can't jitterbug like she did in her day but still manages to shuffle her feet to slow waltzes. She likes line dancing, too.
"I feel it terrible, I do," she said. "My feet work, but my head doesn't. And I have no vision. I've got macular degeneration, and my balance is off at times."
Dancing at the senior center is "wonderful relaxation," probably the highlight of her week, Cardecicia said. It's a social function, much more interactive than Facebook or Instagram.
Happy feet
Research shows dancing can improve mental health by boosting overall happiness. It's a low-impact, cardiopulmonary form of exercise that increases stamina, strengthens bones and muscles and staves off illness.
The New England Journal of Medicine published findings that dancing on a regular basis is linked with a 76 percent reduction in dementia risk, whereas other physical activities such as bicycling, walking and performing housework were not associated with any decreased risk.
The study concluded that participation in leisure activities is associated with a reduced risk of dementia, even after adjusting for base-line cognitive status and after excluding of subjects with possible preclinical dementia.
Dancing was the only physical activity associated with a lower risk of dementia. Fewer than 10 subjects played golf or tennis, so the relation between these activities and dementia was not assessed.
Any physical activity increases neurotransmitters in the brain, which helps with depression, but it doesn't slow down diseases such as Alzheimer's, said Dr. Munawar Paracha, a neurologist affiliated with Kingman Regional Medical Center.
"Exercise always helps with mild depression," he said. "Other than that, physical activity doesn't slow down Alzheimer's. It does not change the course or progression of the disease."
Any form of physical exercise helps increase blood flow to the brain, which can improve symptoms of depression and make a person feel better for the moment, the doctor said.
"Especially sports activity because you have to think," Paracha said. "Your attention is better, so your memory may be better."
Cognitive process
Studies show how different types of practice allow dancers to achieve peak performance by blending cerebral and cognitive thought process with muscle memory and "proprioception" held in the cerebellum.
A 2013 study published in Psychological Science magazine found that dancers can improve the ability to do complex moves by walking through them slowly and encoding the movement through "marking," which alleviates the cognitive and physical aspects of dance.
In general, dancing helps with motor control, proprioception and coordination, said Dr. Chris Bowers, physical therapist at KRMC. He could not speak to the neurological benefits.
Proprioception, or the perception of movement and spatial orientation, is important to maintain balance, he said. Dancing also improves the vestibular system, or inner ear, also critical for balance.
"I think it's not only having your mind active, but it's a great form of exercise for the whole body and person," said Debera Daugherty, executive director of Kathryn Heidenreich Adult Center.
"Music releases endorphins and gives you a better sense of well-being. I think it's a great social activity. They see their friends and meet new people."
Most of the 40 to 50 seniors who show up for the weekly dances are in their 60s and older, Daugherty said. Some of them get up and sing or play an instrument, which is also beneficial for the brain.
"It helps with their range of motion. It helps their body as well as keeping their minds active remembering the words, as well as dancing with steps," Daugherty said. "The program encourages music, people who play and get up and sing, as well as get up and dance."
In addition to the Thursday dances, the adult center has line dancing classes four times a week and foxtrot classes on Friday.
The teachers are hoping to start other dance classes as well, Daugherty said.
SUBMIT FEEDBACK
Click Below to:
More like this story