30th Fun Run highlights cars and folks in Kingman
By
Aaron Ricca
|
ARicca2
Originally Published: May 7, 2017 6 a.m.
KINGMAN – Last year it was rain. This year it was wind.

Powerful gusts up to 40 mph might've been enough to keep 30th Route 66 Fun Run organizers from putting the signature drive-thru sign up, but they weren't enough to stop hundreds of spectators and car buffs from strolling the small chunk of the Mother Road Saturday afternoon.
The sign that usually greets cruisers, locals and tourists at the Route 66 and Fourth Street intersection was kept inside over fears the wind might blow it down, said a Powerhouse Visitor Center representative. More than 800 cars, trucks and other vehicles registered to make the casual cruise from Seligman to Kingman on Saturday, and to Oatman and Topock, the finish line, on Sunday.
The yearly Show and Shine on Route 66, Beale Street and side streets attracted hundreds of classic and newer cars for onlookers to marvel at. There was music broadcasted throughout downtown from a DJ at the Powerhouse and even a few food and craft vendors lining Locomotive Park.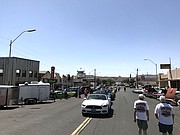 A 1950s street dance and costume contest was held at House of Hops later in the evening.
Fun Run Coordinator Chris Brady said car clubs from at least six countries, including the United States, participated in the run. He felt the event was undoubtedly a success, despite the weather.
"If you turn the wind down, it's amazing," he said.
The 30th Annual Fun Run fun continues today. The cars begin to meet at the Powerhouse Visitor Center before beginning the cruise on Historic Route 66 to Oatman. There will be burros and gun fights in Oatman, and the Show & Shine Awards Ceremony takes place from 12:30-1:30 p.m. in Golden Shores.
The top photo takes in a panorama view along Route 66 Saturday. Shown above left, the west end of Route 66 was packed with cars and people before 10 a.m. Not all the action was limited to Route 66, as shown on the left. Plenty of cars were on Beale Street with car aficionados and shoppers.
More like this story
SUBMIT FEEDBACK
Click Below to: