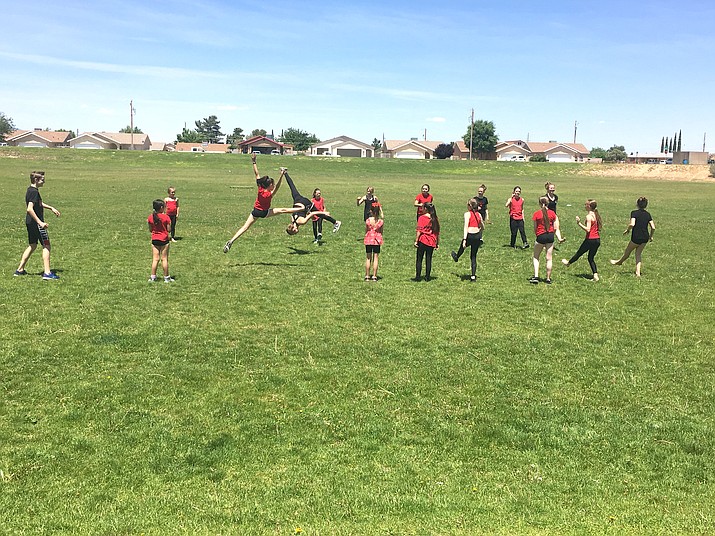 Photo by Hubble Ray Smith.
Originally Published: May 7, 2017 5:57 a.m.
KINGMAN – Monsoon Park, also known as the Green Hole, has been identified as the best of five possible locations for a retention basin that would help recharge aquifers in the Hualapai Basin, water consultant Nick Hont told the City Council at Tuesday's meeting.
Hont, who retired earlier this year as director of Mohave County Development Services, updated a couple projects from the U.S. Geologic Survey designed to assess the withdrawal and recharge rate of Kingman's aquifers.
There's been a lot of discussion about how much water is being sucked out of the ground by farming operations that have sprouted up around the Red Lake and Valle Vista area, and Hont said USGS is "working on their model as we speak."
Hont said he's been informed that USGS will receive additional federal money that will allow a supplemental scope of work that will be brought to the county and city.
"Basically it makes the models more robust and more accurate at no cost to the city or county," he said. "They are not done yet with the scope."
The second task is capturing runoff from major washes in Mohave County. Hont is working on water flow models from every wash and street, based on established flow, to identify potential properties as retention basins.
"What's underneath? We need an engineering subsurface investigation to determine permeability and flow," he said.
Of the five sites he showed the council, Monsoon Park at Eastern and Southern avenues has the most potential. It's a large detention basin with a culvert at one end, and is a popular area for sports activities, walking the dog and jogging.
"We have two borings up to 40 feet and it looks like it's going to work," Hont said. "There is some clay layers, but also some sand layers."
A second site across the railroad and Andy Devine Avenue at Lewis Kingman Park is not so good, he said. They hit bedrock, worse than caliche, at 6 feet. Another site north of town on Stockton Hill Road was also eliminated.
Two sites coming off Rattlesnake Wash around Kingman Airport were studied. One looks more promising than the other for its "coefficient of permeability," Hont said.
Councilwoman Jen Miles asked if there are technological solutions to capture water from the Mohave Wash, and would it be feasible.
"Everything is feasible," Hont said. "It's a question of money. I'm going for easy solutions right now. The one at the airport and Monsoon Park are easy. When you get to Mohave Wash, the clay layer is so thick, you'd have to go deep."
Hont said he put in an application for a $3.3 million grant, and if approved, he would "absolutely" go for injections at Mohave Wash.