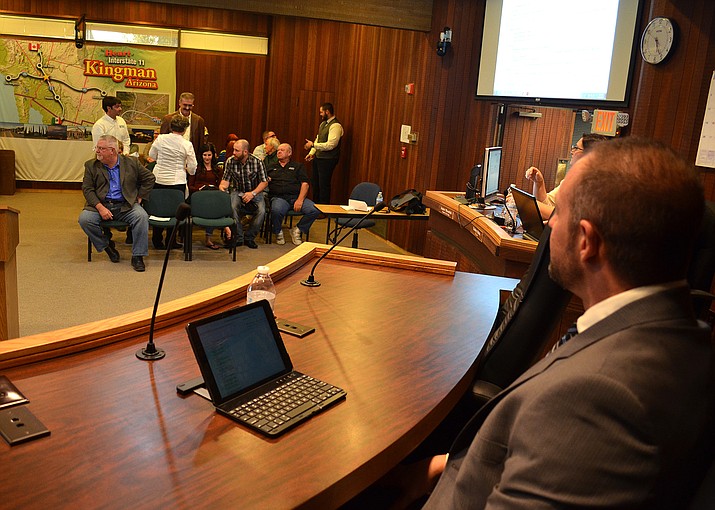 Photo by Aaron Ricca.
Originally Published: May 9, 2017 10:25 a.m.
KINGMAN – The City Council has set a special meeting at 5:30 p.m. tonight in response to comments made by Councilman Travis Lingenfelter, who is the subject of a recall petition to be filed June 7.
The meeting will be at the Council Chambers, 310 N. Fourth St.
Mayor Monica Gates has requested a resolution to affirm the city's "diversity, equality and inclusion" after comments were posted on Facebook by both Lingenfelter and Kristi Rose Turman, who has initiated the recall effort.
Lingenfelter has become the center of controversy on a number of fronts, including his pursuit of changes in operations and management at Kingman Airport and Industrial Park.
"It is unfortunate that Councilman Travis Lingenfelter continues to create drama for this community," Turman posted on Facebook. "He is a disgrace to our community."
He's also in a dispute with Kingman Fire Department over a complaint he made against firefighters making "crude comments" to emergency room medical staff, Lingenfelter's girlfriend, at Kingman Regional Medical Center.
"On behalf of the City Council and the city of Kingman staff, I want to express my sincere apology for the derogatory and offensive behavior of a council member that is currently being shared on social media," Gates said.
Lingenfelter said Gates has joined with KAA and others after being elected on her campaign for changes at the airport.
"People don't follow position titles. They want people that are going to stay true to what they campaigned on," he said. "I am tired of her political bullying and I do not agree with her unethical use of government power to muzzle differing political opinions aimed at positive advancement."