Originally Published: May 18, 2017 2:17 p.m.
FORT MOHAVE – A one-month investigation dubbed "Operation Dig Deeper" ended Wednesday with the arrests of 20 people for charges including chop shop operation, possession of dangerous drugs and not having their dogs licensed.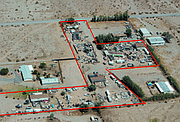 According to Kingman Police spokeswoman Jennifer Sochocki, the Mohave Area General Narcotics Enforcement Team, with the assistance of the Mohave County Sheriff's Office, Bullhead City and Lake Havasu City SWAT teams, served a search warrant of four combined properties in the 4300 block of Cavalry Road in Fort Mohave.

Suspects barricaded themselves in two homes during the search, but ultimately complied with commands to exit after a short period.
Investigators recovered a stolen 1993 Chevrolet Camaro and 1993 Polaris ATV located on the properties. Several firearms, drugs and drug paraphernalia were also seized.
Officers contacted a total of 22 people, 20 of whom were arrested.
One juvenile was removed by the Arizona Department of Child Safety, and one elderly person was removed by Arizona Adult Protective Services. Mohave County Animal Control removed nine dogs and one cat from the property.
MAGNET, an Arizona Criminal Justice Commission-supported task force, executed the search warrant that resulted in the dismantling of an alleged theft and drug operation.
A statement from MAGNET said the bust will ultimately impact the quality of life for citizens of Fort Mohave as well as those of Mohave County.
The following agencies assisted MAGNET in the operation:
Arizona Department of Public Safety Vehicle Theft Task Force, Arizona Department of Transportation (ADOT), ADOT Enforcement, Gang and Immigration Intelligence Enforcement Mission (GIITEM), Kingman Police Department, Mohave County Building Department, and Mohave County Code Enforcement.
All suspects are from Fort Mohave. They were arrested and booked into the Mohave County Jail on the following felony charges:
Barry Jay Messner, 52, operating a chop shop, theft of means of transportation.
Justen Keith Dunn, 28, Stephanie Noel Evans, 31, Christine Marie Fryer, 43, Holly Armada Haworth, 37, Katrina Marie Heidorf, 38, Justin Daniel Lafond, 32, Nicole Lindsey Miller, 27, Stephanie Ann Osborn, 34, Ayanna Lee Ostronick, 23, – possession of drug paraphernalia.
Aaron Ray Dunn, 46, possession of dangerous drugs, possession of drug paraphernalia.
Russell Scott Warren, 43, possession of burglary tools.
Damon Michael Heidorf, 18, possession of narcotic drugs, possession of marijuana, possession of drug paraphernalia.
J.T. Roark, 32, possession of prescription only drugs.
Bryan Joseph Anderson, 41, possession of dangerous drugs, possession of drug paraphernalia.
Robert Bruce Blankenmeyer, 54, possession of marijuana, possession of drug paraphernalia.
Sochocki said this case is linked to a MAGNET bust on Laguna Road in Fort Mohave in April. Four other people were arrested for misdemeanors. Further charges are pending against several of the arrested subjects.