'Howlin' in the Hualapais' wants publicity and awareness with dog festival to the Hualapais
'Howlin' in the Hualapais' wants to celebrate the lives of canines

Originally Published: May 19, 2017 6 a.m.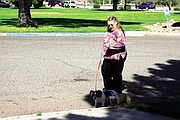 Lisa Snyder knew after one trip to the Hualapai Mountains that it would be the perfect location for a dog walk and festival. The operations manager at Western Arizona Humane Society-Kingman used to host a similar event at another shelter, but it didn't have the appealing scenery.
"I just moved here less than a year ago and I went up to the Hualapais just to see what it is like," Snyder said. "I thought, 'oh my gosh, this would be such a cool place.' It's going to be nice in the summer, and it just kind of fell together."
The inaugural Howlin in the Hualapais event is set for 10 a.m. to 6 p.m. Saturday at Hualapai Mountain Park, 6250 Hualapai Mountain Road, and will feature craft and retail vendors along with opportunities to vaccinate and license your pets.
Those on the fence about adopting a pet can make the decision easier by borrowing one.
"You take that dog on the walk and at the end of it, we'll be there with an adoption packet," Snyder said. "Because after you've taken the dog for a walk in the woods, you're going to want to take it home with you." For those who already have pets, there will be a number of different costume contests along with music and dancing thanks to a live DJ.
"You and your dog can dress up in costume or you and your family and all your dogs can dress up in costume," Synder said. "I think that's going to be a lot of fun. There's also a dog and owner lookalike contest as well. That's going to be a blast. You come up on stage and you sell yourself as the best costume."
Snyder also mentioned the Arizona Game and Fish Department along with the sheriff and police departments will be there to help with public education.
"We're kind of tying that in as well," she said. "Giving some people some publicity and some awareness of the park because it's a beautiful place. We're kind of doing a little bit of everything."
There will also be plenty of children's activities, including a bounce house. The event has already received a lot of attention and Snyder plans for it to continue.
"Absolutely, I'm hoping to make it a yearly thing," she said. "Because we had such a great interest this year, that next year we expect it to be even better. Make it something that people look forward to every year."
There is no cost to attend and Snyder mentioned there will be a raffle, shirts for sale and a number of free activities.
"It's going to be an amazing day in the park," she said. "It gets you in the park for free too. So that's a bonus."
More like this story
SUBMIT FEEDBACK
Click Below to:
This Week's Circulars
To view money-saving ads
For as little as $3.49*