Kingman duo find their niche playing chess

Originally Published: May 21, 2017 6 a.m.
KINGMAN – Nicholas Gross and Brian MacKenzie are not your typical competitors as they go to battle on a smaller stage than most. That doesn't mean their success should be overlooked, as the game they play takes a lot of intellect and skill.
It all started for Gross when one of his teachers noticed he had the talent to play a game featuring 32 pieces on a board containing 64 squares of alternating colors.
"My first-grade teacher recommended chess to me because, I guess, I was good at math," Gross said. "She just thought it would be one of those sports I would be good at."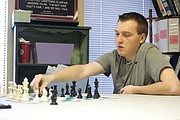 Gross lived up to those expectations and more, as he's won approximately 90 percent of his 120 games, highlighted by winning his category at the Las Vegas International Chess Festival.
MacKenzie, meanwhile, won first place in Ohio's U.S. Federation tournament, but he didn't start playing chess until about the seventh grade when his brother taught him some aspects of the game. While MacKenzie takes the game seriously, he isn't banking on it as a career.
"I haven't had as much success as Gross has, but I just don't really see myself doing anything in the future with it," MacKenzie said. "It's kind of a hobby in high school – have fun with it, win games and kick butt."
Gross and MacKenzie, seniors at Arizona Virtual Academy, may be on different skill levels, but the duo still turn to each other for pointers. Gross mentioned that during the summer they get together and prepare for the coming year. They also have their normal chess practices where they give each other advice and go over games.
"We record our games – we write down what moves we do," Gross said. "When we're done playing, we'll review it. So that way the next time we get something similar to that game in a tournament, we'll have a better idea of what we should be doing with better moves. So we can hopefully have a better chance of winning."
While victories are important throughout the year, they are even more significant on the biggest stage. This year's Supernationals VI were held last week at the Gaylord Opryland Resort and Convention Center in Nashville, Tennessee.
"We've just been practicing," MacKenzie said. "Keeping up on it, so hopefully we can win something."
The duo definitely lived up to expectations, as Gross finished second place in the K-12 Championship (1900-1999 class) with a score of 4.5/7. He also placed second in K-12 Blitz (1900-1999 Class) with a score of 8/12.
"Supernationals was a great learning experience," Gross said. "I was able to play and meet other people who enjoy the game as much as I do."
MacKenzie also fared well, taking 13th place in the K-12 Championship (Under 1,200 section) with a score of 6/7.
More like this story
SUBMIT FEEDBACK
Click Below to:
This Week's Circulars
To view money-saving ads
For as little as $3.49*